'London Fields' Director Admits His Movie Deserved To Bomb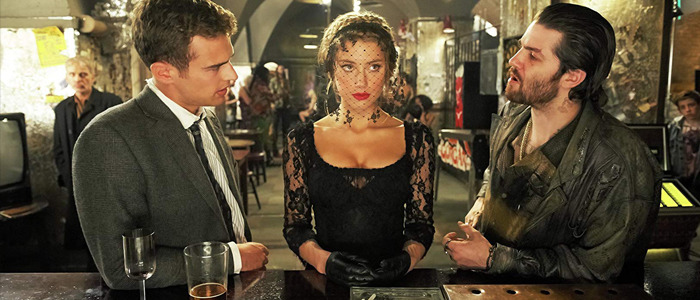 If you read that headline and thought, "Wait, London Fields was adapted into a movie?", you're not the only one. A film version starring Billy Bob Thornton, Amber Heard, and Jim Sturgess was released in theaters this past weekend, made only $168,575, and received a rare 0% score on Rotten Tomatoes. That puts it in the not-so-esteemed company of movies like Gotti, The Ridiculous 6, Bucky Larson: Born to Be a Star, and Superbabies: Baby Geniuses 2.
But here's the thing: while many directors would take umbrage at such a critical pummeling, London Fields director Mathew Cullen admits that he's read the reviews and he agrees with them. Read more about the notoriously troubled production below.
"I've read the reviews. I agree with them," Cullen told The Hollywood Reporter in a piece that details the problems the film experienced over the years. Filmed back in 2013 and mired in legal battles ever since, London Fields was originally going to be directed by David Cronenberg (and later, Michael Winterbottom) before Cullen came on board. The movie is based on Martin Amis' beloved 1989 novel. Here's the red band trailer from the movie's distributor, a company I've never heard of called GVN Releasing:
"There's a reason why they said that Amis' book was unadaptable," Cullen said, pointing to the difficultly of translating the tone of the whodunit murder mystery novel. You can read all of the details over at THR, but creative visions clashed and lawsuits were filed. Star Amber Heard was sued for $10 million for "allegedly breaching performance and promotional obligations," but she countersued, saying that "racy scenes with a body double had exploited her sexually" and that the producer's cut of the movie violated the nudity rider in her contract.
Strangely, there is a producer's cut and a director's cut playing separately in theaters right now. The producer's cut was savaged by critics oversees when it played in Russia, but that didn't stop the producers from screening that version to more critics and making it the default version that's getting the wider release here in the U.S. Cullen eventually worked out a deal to get his own cut of the movie to play in a few select theaters, but I can't imagine anyone selling tickets at theaters would know which cut they were showing.
Here's more:
Cullen consciously chose to get murdered by critics. Now considering retiring from feature films, he says, "Under DGA rules, I could have used a pseudonym, but in that process, I wouldn't ever be allowed to talk about the film again and I wouldn't have had the ability to release my version of the film."
Sounds like a nightmare, and it's easy to understand why Cullen, a music video director who made his feature directorial debut with London Fields, would be so put off by the experience that he's thinking about abandoning features altogether.
London Fields is still playing in a few theaters in the country, should you be curious enough to want to seek it out.