Controversial 'The House That Jack Built' Director's Cut To Play In Theaters One Night Only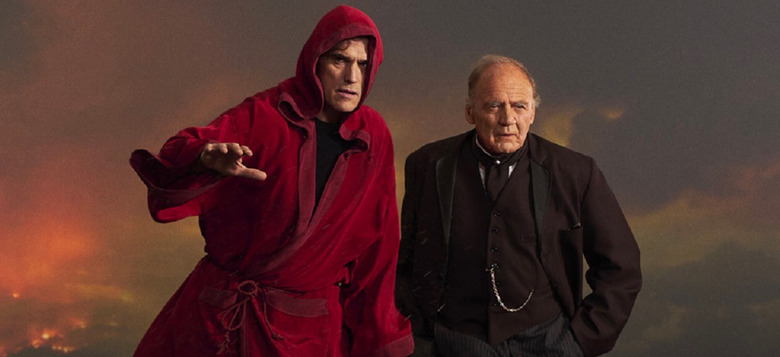 Lars von Trier returned to Cannes this year after being banned from the festival for 7 years, and immediately infuriated everyone. The film von Trier brought with him, the serial killer drama The House That Jack Built, was derided as needlessly cruel, overly violent, and downright terrible. And now the general public will have a chance to see it! Not only that, but von Trier's House that Jack Built director's cut will head to theaters for one night only, before an R-rated cut rolls out a month later.
If you've been waiting to see The House That Jack Built, I have some good news. The director's cut of Lars von Trier's controversial film will play in theaters for one night only – Wednesday, November 28. This is the version of the film that played at Cannes, and angered a lot of people. Soon after this screening, an R-rated version of the film will be released in theaters and digital on December 14. The director's cut will also be available on December 14 for purchase only. Here's a new teaser advertising the release.
Meet Jack. One night only on November 28, we present Lars von Trier's director's cut of THE HOUSE THAT JACK BUILT! Tickets on sale now: https://t.co/tA5xuNoS7K 🗡 pic.twitter.com/vT7s4zXXxv

— Film at Lincoln Center (@FilmLinc) October 31, 2018
Lars von Trier, the filmmaker behind Antichrist, Melancholia and Nymphomaniac, likes to push buttons. He's the type of filmmaker who thrives on pissing people off, and his latest film, The House That Jack Built, really pissed people off when it debuted at Cannes. Reviewing for /Film, Andrew Todd wrote:
The House That Jack Built is so very nearly a terrific, smart black comedy about death, art, and morality. But it descends so completely into self-centered masturbation (or more of a cry-wank) that the ultimate takeaway is what a dick the director is. His script makes overtures at depth, but it's all there on the surface: this is Lars von Trier, expounding upon his greatness from beneath a thin veil of self-deprecation.
And that's one of the more positive reviews. "As a longtime admirer of the director's work, I can't quite believe I'm saying this, but the most shocking thing I found about The House That Jack Built is how tedious it is," wrote Bilge Ebiri of The Village Voice. "A "Human Centipede" ass-to-mouth concertina of gruesome misogyny and utter tedium," said The Playlist's Jessica Kiang. And Peter Bradshaw at the Guardian added: "An ordeal of gruesomeness and tiresomeness that was every bit as exasperating as I had feared."
In any case, audiences can finally see for themselves what von Trier has cooked up this time. Ticket info is available here.
THE HOUSE THAT JACK BUILT takes place in 1970s USA. We follow the highly intelligent Jack (Matt Dillon) through 5 incidents and are introduced to the murders that define Jack's development as a serial killer.  We experience the story from Jack's point of view. He views each murder as an artwork in itself, even though his dysfunction gives him problems in the outside world. Despite the fact that the final and inevitable police intervention is drawing ever near (which both provokes and puts pressure on Jack) he is – contrary to all logic – set on taking greater and greater chances. Along the way we experience Jack's descriptions of his personal condition, problems and thoughts through a recurring conversation with the unknown Verge – a grotesque mixture of sophistry mixed with an almost childlike self-pity and in-depth explanations of, for Jack, dangerous and difficult maneuvers.
THE HOUSE THAT JACK BUILT stars Matt Dillon, Bruno Ganz, Uma Thurman, Siobhan Fallon Hogan, Sofie Gråbøl and Riley Keough. It was produced by Louise Vest, Jonas Bagger, Bettina Brokemper, Madeleine Ekman, Lizette Jonjic, Tine Grew Pfeiffer and Marianne Slot . The film is a Zentropa Entertainments31, Zentropa Sweden, Slot Machine, Zentropa France and Zentropa Koln Production.