Man Sues 'Jurassic World: Fallen Kingdom' Producers Over Phrase "Save The Dinos"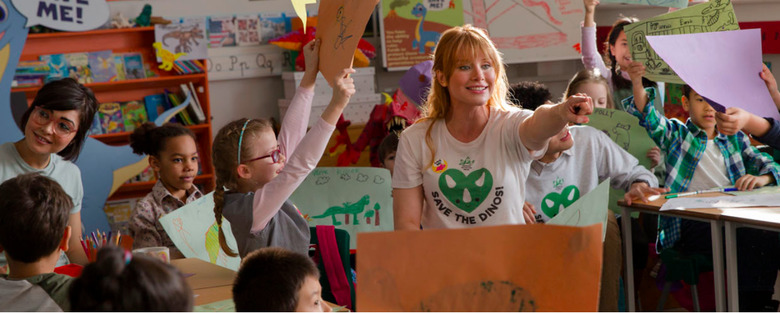 Remember the Dinosaur Protection Group from Jurassic World: Fallen Kingdom? It's the organization founded by Bryce Dallas Howard's character that was designed to educate people about dinosaurs and keep the genetically-created creatures safe – a mission that becomes especially urgent when a volcano threatens to erupt on Isla Nublar.
Well, it turns out there's a real preservation group called The Dinosaur Project, and now the leader of that organization is suing the producers of Fallen Kingdom over the use of one specific phrase. Read more about the Jurassic World lawsuit below.
The Hollywood Reporter has published a new court filing from The Dinosaur Project's Frederick Zaccheo, who says Fallen Kingdom's producers breached their contract with him by using the slogan "Save the Dinos" improperly on merchandise. Here's a quick breakdown:
According to the complaint filed Tuesday in New York federal court, lawyers for Universal and Steven Spielberg's Amblin Entertainment contacted Zaccheo requesting his consent to use his trademarked phrase. They paid him $50,000 for the right to use it in advertising for the film and promised not to use it in connection with clothing or to promote any charity, specifically animal rights, endangered species and environmental causes. They also agreed that the slogan must always be used with Jurassic Park franchise branding.
Everything was going just fine until Zaccheo noticed Universal actually was selling T-shirts with the phrase "Save the Dinos" on them, and the shirts weren't clear enough that they were associated with the Jurassic World franchise. That goes against their agreement and poses a problem for Zaccheo, who sells his own "Save the Dinos" shirts through The Dinosaur Project's website.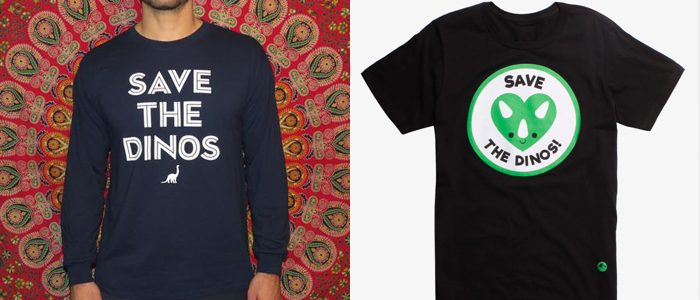 On the left, you can see a shirt from The Dinosaur Project. On the right is a shirt you can buy at Hot Topic thanks to licensing from Jurassic World: Fallen Kingdom. (There's a small Jurassic Park logo on that particular item, but there are a few other Hot Topic pieces that also use the phrase either without the JP logo at all or with it integrated in a much sneakier way.)
Frankly, I think it's a little weird that someone managed to trademark the phrase "save the dinos" in the first place, but hey – if Zaccheo beat Universal to the punch fair and square, and they paid him to use the phrase under very specific conditions and then broke those conditions? I'm not an expert in entertainment law, but this seems like a pretty clear-cut (if admittedly odd) case.