'Attack On Titan' Movie In The Works With 'It' Director Andy Muschietti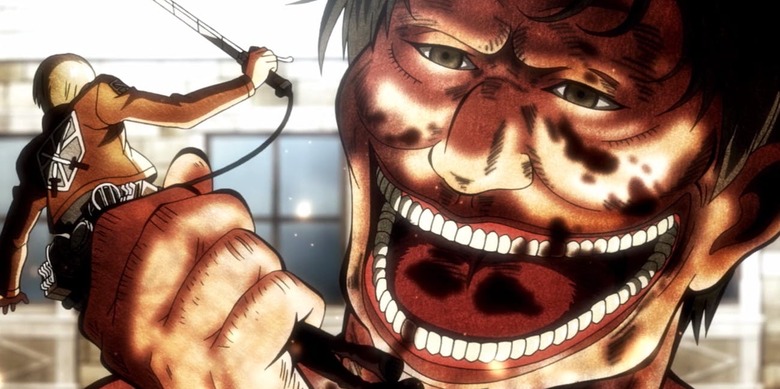 It director Andy Muschietti may have brought one of Stephen King's most beloved books to life and received critical and commercial acclaim, but the anime game is a whole other story. It's a genre that has felled the best directors, and even Muschietti's distinctive visual flair may not prepare him for one of the most ambitious, weird, and grotesque popular animes to come out of Japan recently: Attack on Titan.
Another day, another Hollywood adaptation of a popular anime. The Hollywood Reporter reports that Muschietti is developing a live-action adaptation of the hugely successful sci-fi anime, Attack on Titan, for Warner Bros.
The feature film would be produced by longtime Harry Potter producer David Heyman alongside Masi Oka and Barbara Muschietti. No screenwriters are yet attached.
Written and created by Hajime Isayama, Attack on Titan is set in a world where humanity is forced to take refuge in giant walled cities that are regularly besieged by by gigantic man-eating humanoids called Titans. The series follows several military cadets who are trained to fight Titans using swords and (what else?) giant robots. It sounds par for the course for a mecha anime, but Attack on Titan's grotesque animation style and gruesome war-time violence makes this hugely popular anime kind of messed up. It's been dubbed the successor to Neon Genesis Evangelion, which is widely accepted as the best anime of all time, but that's still up for debate.
This isn't the first time that Attack on Titan has been adapted into a live-action film. The Japanese film industry tried to turn the successful anime into a successful film (twice!), but couldn't do justice to the original's epic scope. Perhaps Muschietti, with Warner Bros.' backing, could at least score the budget necessary for this kind of sci-fi blockbuster. As for whether that movie will be good or not, well, you just have to look at the track record for anime adaptations in Hollywood to decide for yourself.
Attack on Titan would likely be Muschietti's next project after he wraps It: Chapter Two, which is set to open on September 6, 2019. Though Muschietti has proven himself to be an inspired director in the horror department, Attack on Titan would likely have the biggest budget and scope the filmmaker has ever tackled. Honestly, good luck to him, because he's going to need it.