'Zombieland 2' Screenwriters Call The Sequel A "10 Year Anniversary Present", Can't Comment On Those 'Pirates Of The Caribbean' Rumors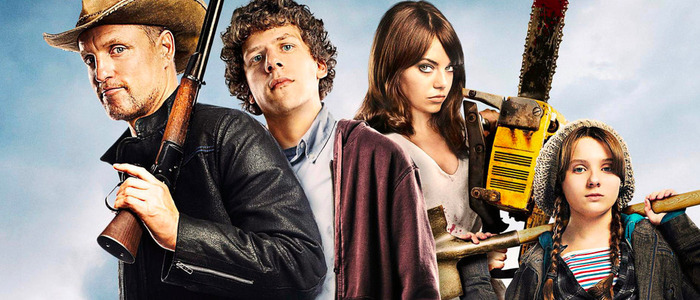 Zombieland 2 has been rumored ever since the original became a hit. Even when writers Rhett Reese and Paul Wernick planned a Zombieland television series, there were still future movie plans. Now Zombieland 2 is going into production this January, coincidentally the same time Reese and Wernick's YouTube Premium series Wayne will premiere.
Reese and Wernick spoke with /Film early about Wayne. When the subject of Zombieland 2 came up, they acknowledged that their story has changed over the decade its been in development.
"Yeah, it has changed," Reese said.
Wernick added, "It's evolved I think. It's evolved over time."
Woody Harrelson, Jesse Eisenberg, Emma Stone and Abigail Breslin will return for Zombieland 2, and Ruben Fleischer will direct again. Not all sequels manage to land the whole cast. See 2 Fast 2 Furious spinning off with Paul Walker's character, or Major League 2 replacing Wesley Snipes with Omar Epps. Coordinating the schedules of four in-demand actors must have been a Herculean effort.
With filming in January, it is possible Zombieland 2 could be ready for release by October of 2019, 10 years after the original premiered.
"We're shooting that in January and can't wipe the smile off our faces," Wernick said. "It's the thing that Rhett and I as a team got our start on. It made us the screenwriters that we've become. That cast and the gang that's back together with Ruben and our producer Gavin [Polone], the studio, we're super, super excited about it. It's pretty special and will come out basically 10 years from the first so it's the perfect 10 year anniversary present I think."
The Zombieland TV series was an Amazon pilot that did not get picked up. Reese said there may be some homages to the TV series in the movie sequel.
"If you pay really close attention, you might see a couple little bits," Reese said. "But mostly it's all not seen before and exciting."
Wernick added that the sequel is "wholly original."
Reese and Wernick also made news last week when it was announced they are attached to a Pirates of the Caribbean reboot. However, they call that a leak, not an official announcement, so could not comment on their involvement.
We'll bring you our full interview with Reese and Wernick in January when Wayne is set to premiere on YouTube Premium.