'The Orville' Season 2 Teaser: Get Ready For A Bitchin' New Season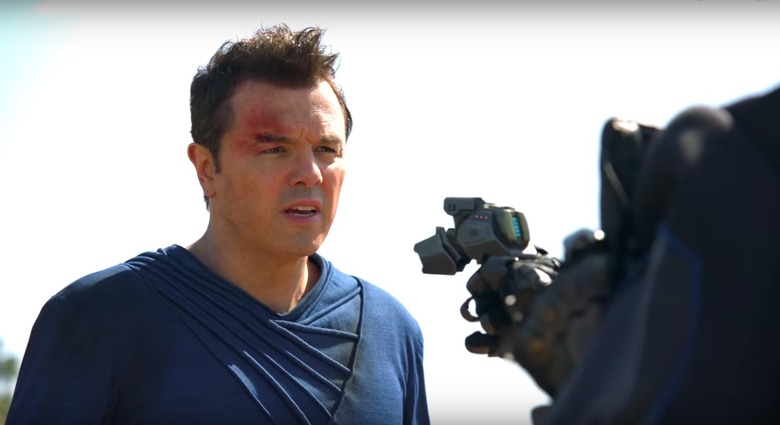 Strap in for a new season of The Orville, Seth MacFarlane's kinda comedic sci-fi series riff on Star Trek. The sci-fi comedy series is returning to Fox in just two months, over a year since the first season finished airing to mixed reception. But, in the words of one of the crew of the titular ship in The Orville season 2 teaser, this new season will be totally "bitchin'."
The Orville Season 2 Teaser
The second season of The Orville finds MacFarlane's sardonic Captain Ed Mercer separated from his ship, with his crew determined to find him. Lead by his ex-wife and first officer Kelly Grayson (Adrianne Palicki), the crew of The Orville search the far reaches of the galaxy to find Captain Mercer — hopefully before he finds out what happens after staring down an alien gun. The crew will find themselves facing new enemies and threats — but don't worry, they'll still have time for plenty of dick jokes.
The Orville debuted last year to mixed reception, upon critics' realization that it wasn't a Star Trek satire as much as it was a comedic Star Trek riff. Regardless of the mixed reviews, Fox renewed The Orville for a 14-episode second season, with promises that the show would lean more heavily into the sci-fi elements and less into the spoof. "The show was experimental in a lot of ways," MacFarlane said at the TCAs this year. "Tone was the biggest experimental part of it. What we found was that we can lean a little more heavier into the science fiction and not have to worry so much about knocking out a joke every page."
But The Orville will keep up its Star Trek homages this year, with Star Trek veterans Robert Picardo and Marina Sirtis set to guest star in the upcoming season.
Here is the official synopsis for the first season of The Orville:
Down on his luck after a bitter divorce, Planetary Union officer Ed Mercer finally gets his chance to command his own ship. Determined to prove his worth and start a new chapter, Ed discovers the first wrinkle in his plan when the First Officer assigned to his ship is his ex-wife, Kelly Grayson. As 

the new commander, Ed assembles a qualified — but eccentric — crew, including his best friend, Gordon, who has problems with authority but is the best helmsman in the fleet; Dr. Claire Finn; Bortus, an alien from a single-sex species; Isaac, an artificial life-form from a machine society; navigator John Lamarr; Alara Kitan, a young, inexperienced security officer; and Yaphit, a gelatinous creature.
The Orville season 2 premieres on Fox on December 30, 2018.