'Halloween' On Track To Become Biggest R-Rated Horror Hit After 'It,' 'A Star Is Born' Rises Over 'Venom'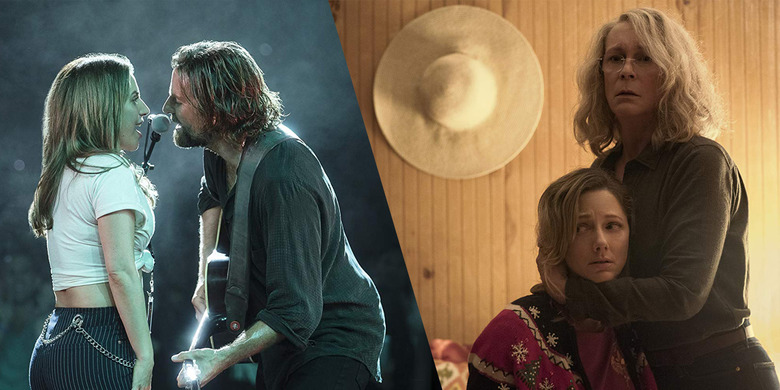 Halloween may have shattered box office records for slasher films, but the Gordon Green sequel is set to slash even more records as the numbers from this weekend roll in. The Halloween box office continues to have a strong showing in its second weekend, maintaining the No. 1 spot, while A Star is Born begins to rise over the current October No. 1 box office holder, Venom. And if the numbers continue to be strong for both Halloween and A Star is Born, the two films could see an impressive — maybe even record-setting — total box office haul.Halloween raked in an estimated $32 million domestically this weekend, bringing its domestic total to $126 million — it has its eyes on the coveted $200 million mark. Internationally, the horror film is no slouch either, scoring the No. 1 spot with an estimated $25.6 million from 62 markets, making its international total $45.6 million. With its grand cumulative total topping $172 million, Halloween could be well on its way to becoming the second highest-grossing R-rated horror flick after 2017's record-setting It.
Meanwhile, after a strong but modest opening, A Star is Born is gaining momentum. The film dropped just 26% at the domestic box office this weekend, raking in $14.1 million domestically, making its domestic total $149 million. With an added $17.6 million from 75 international markets, the global tally has now reached $253 million, and counting. At this rate, A Star is Born could overtake Venom, which has topped $508.4 million worldwide and still holds the title as best-selling October movie but is starting to slow down, dropping 40% this weekend with only a $10 million domestic haul.
Either way, both Halloween and A Star is Born look like they'll be blockbuster success stories for this month. Halloween's is significant because it comes at a time when studios are just pushing out more horror movies in October, while awards darling A Star is Born proves that the "most popular Oscar" category may turn out to be redundant.