'Suspiria' Clip Wants To Send You To Your Room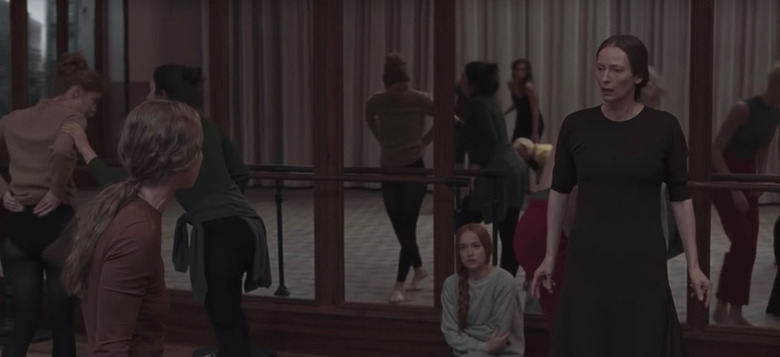 Suspiria is now playing in select cities, and folks, it's bonkers. Luca Guadagnino's remake of Dario Argento's horror classic is a big, bold, incredibly strange experience that you'll either love or hate (no middle ground here). A new Suspiria clip has just arrived, offering a tiny glimpse of the madness inherent in the movie. Watch as one of the film's dancers has a complete breakdown and hurls accusations of witchcraft! Watch the Suspiria clip below.
Suspiria Clip
This Suspiria clip is pretty frantic and intense, but it only scratches the surface of how crazy things eventually get in this movie. Here, we watch as dancer Olga (Elena Fokina) snaps while in the middle of a dance at the mysterious Markos Dance Academy in Berlin. Olga is particularly upset over the disappearance of one of the academy's dancers, Patricia (Chloë Grace Moretz). The official story is that Patricia was caught up with some activists, and has gone into hiding due to a bombing. But Olga suspects something else is going on here – and that the academy's teachers – including Tilda Swinton's character, Madame Blanc – are involved. Not only that, but she also thinks they're a bunch of witches. Cue the spooky music!
Speaking of spooky music, you can now stream Thom Yorke's excellent Suspiria soundtrack, which is very different than the prog-rock soundtrack from the original, from Goblin. Here's the full album, for your listening pleasure.
I'm very curious to see how audiences react to Suspiria once the film goes wider. I'm positive it's going to be a very polarizing film, because Guadagnino takes the story to weird, violent, unexpected places. Personally, I loved the movie, and am fairly positive it will end up on my Best of the Year list. But I also know many people are going to walk out of Suspiria ready to proclaim it the worst movie they've ever seen. It's that polarizing.
Suspiria, starring Dakota Johnson, Tilda Swinton, Mia Goth, Jessica Harper, and Chloë Grace Moretz, opens wide on November 2, 2018.
Young American dancer Susie Bannion arrives in 1970s Berlin to audition for the world-renowned Helena Markos Dance Co. When she vaults to the role of lead dancer, the woman she replaces breaks down and accuses the company's female directors of witchcraft. Meanwhile, an inquisitive psychotherapist and a member of the troupe uncover dark and sinister secrets as they probe the depths of the studio's hidden underground chambers.