'Queen America' Trailer: Catherine Zeta-Jones Eyes The Pageant Crown In Her New Facebook Watch Series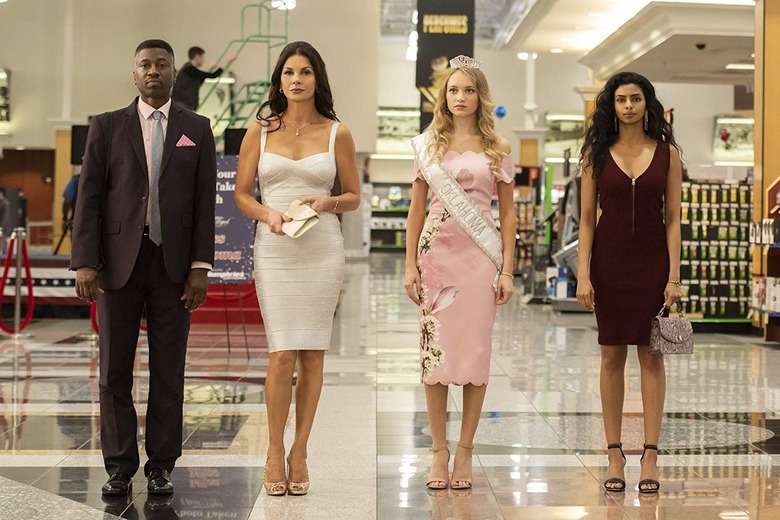 In a world of cutthroat beauty pageants, the woman with the ability to turn any girl into a winner is queen, and honey, you should see Catherine Zeta-Jones in a crown. Well, not a literal crown but a metaphorical one — the person who will be wearing the actual crown is Belle Shouse's Samantha Stone, a hapless beauty pageant contestant who begs' Zeta-Jones' ruthless pageant coach to transform her. But it won't be so easy for the duo to reign supreme, as we find out in the first Queen America trailer.
Queen America Trailer
Catherine Zeta-Jones stars as Vicki Ellis, the most renowned pageant coach in Tulsa, Oklahoma, and a woman with the magic touch to turn any woman into the Miss America winner. But she has her work cut out for her with Samantha Stone, a pretty but unpolished pageant contestant who somehow ropes Vicki into training her.
Teagle F. Bougere, Rana Roy, Isabella Amara, Molly Price, and Megan West also star in this dark comedy.
Ccreated, written, and executive produced by Meaghan Oppenheimer (Fear the Walking Dead), Queen America is the latest promising series from Facebook Watch that'll make you say, "God, I'm going to want to watch a whole TV series on Facebook, aren't I?" The social media giant has proven that it's got the goods with the surprising Elizabeth Olsen and Kelly-Marie Tran drama series Sorry for Your Loss, and I guess Queen America looks pretty good too. But they have got to fix that abominably bad video player. Just playing this trailer was a small nightmare, with the auto-playing function and the dodgy volume controls reminding me that I would never watch a whole 10-episode series on Facebook, no matter how intriguing the trailer.
Here is the synopsis for Queen America:
Set in Tulsa, Oklahoma, Queen America is a dark comedy about Vicki Ellis, the most renowned (and ruthless) pageant coach in the state, and the hapless Samantha Stone who hopes Vicki can mold her into a worthwhile contender for the title of Miss America. Vicki is desperately sought after by young women competing to be Miss America for one reason; she can turn any girl into a winner. But when she gets paired with the beautiful but unpolished Samantha, Vicki's entire reputation might be at stake.
Queen America premieres on Facebook Watch on Wednesday, November 21, 2018.