New Data Suggests 'Daredevil' Season 4 Could Be In Danger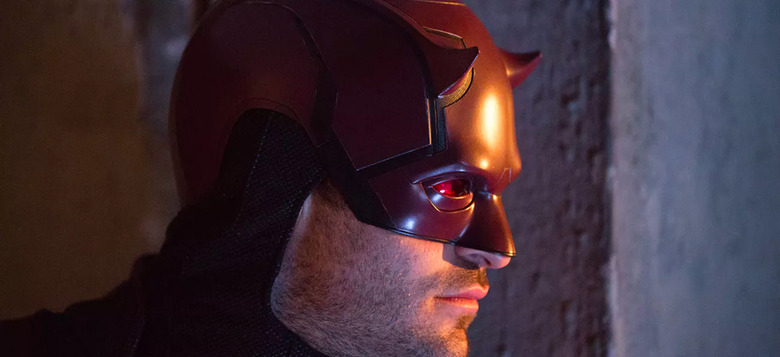 Netflix cancelled Iron Fist and Luke Cage, and now it looks like the Man Without Fear might be next. New data is hinting that Daredevil season 4 likely won't happen. Netflix doesn't release ratings, but interest in a show is often tracked via social media engagement. Trends suggest that Daredevil season 3 is pulling in less-than-desirable numbers on social media, which could spell the end for the series. But there's still some hope.
What's going on with Netflix's Marvel shows? Jessica Jones season 3 and The Punisher season 2 are both in production at the moment, so those shows are safe for now. But the streaming service pulled the plug on Iron Fist and Luke Cage, and Daredevil might be following in their footsteps...maybe. Since we don't have Netflix's viewership numbers, it's impossible to know for sure how many people are watching their shows. But according to Business Insider, social-media data is the best way to tell how well certain shows are doing. The data definitely seems to correlate with why Netflix canceled both Iron Fist and Luke Cage.
As Business Inside reveals, the first season of Luke Cage resulted in over "300,000 Twitter and Instagram posts. Season 2 however, saw a huge drop off, "with less than 50,000 posts." The same goes for Iron Fist. The season 1 adventures of Danny Rand puled in "120,000 posts on Twitter and Instagram," while the second had "less than 20,000."
That certainly indicates interest in those shows dwindled. And Daredevil isn't doing too hot either. Daredevil season 1 lead to 275,000 social media posts posts, and season 2 had a little over 200,000. Season 3, however, has dropped off a bit, leading to only 75,000. If this really is the best way to predict Netflix's decisions, this could be bad news. However, it's worth noting that Daredevil season 3 just dropped onto Netflix a week ago, and the numbers could improve by the time the month ends.
Jessica Jones is suffering a similar fate. Season 1: 300,000 social media posts. Season 2: 150,000. We know that we'll definitely get a Jessica Jones season 3, though, since that's already been confirmed. But a season 4 could be unlikely – as could Daredevil season 4. Perhaps the time of Netflix's Marvel streaming shows is coming to an end.
If you're a fanatic for streaming Marvel content, though, all is not lost. Disney is currently hard at work at their own streaming service, and they're already planning several shows featuring MCU characters. Perhaps when one Marvel streaming era ends, a new one will begin.