'Cold Pursuit' Trailer: Liam Neeson And His Snowplow Are Out For Revenge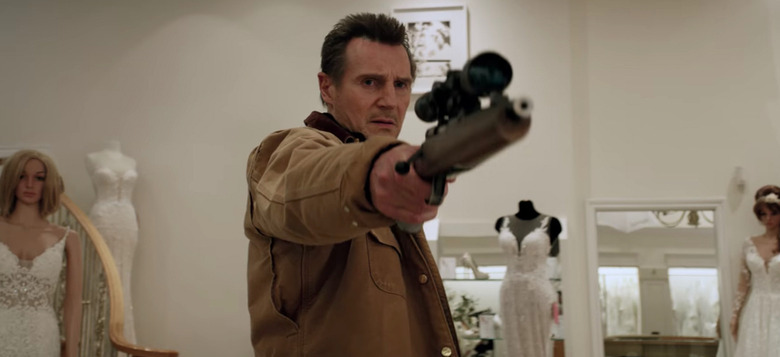 Snowplow driver Liam Neeson wants revenge in the Cold Pursuit trailer. This remake of In Order of Disappearance finds Neeson taking down a gang of drug dealers who murdered his son. And hey, Laura Dern is here, too! Cold Pursuit was previously going by the (much better) title Hard Powder, but I suppose everyone thought they wanted a more pun-based title. Watch the very entertaining Cold Pursuit trailer below!
Cold Pursuit Trailer 
While I'm a bit disappointed that Liam Neeson's usual collaborator Jaume Collet-Serra isn't helming Cold Pursuit, this action-thriller-comedy has Hans Petter Moland – director of the original In Order of Disappearance – in the director's chair, so it's probably in good hands. And based on this trailer, Cold Pursuit is going to be a lot of fun. Sure, Liam Neeson can play this type of role in his sleep at this point. But that doesn't take away from the enjoyment of watching him murder a bunch of fools who crossed him.
In Cold Pursuit, Neeson plays Nels Coxman (!!!!), "a family man whose quiet life with his wife (Laura Dern) is upended following the mysterious death of their son. Nels' search for justice turns into a vengeful hunt for Viking (Tom Bateman), a drug lord he believes is connected to the death. As one by one each of Viking's associates "disappear," Nels goes from upstanding citizen to ice-cold vigilante, letting nothing — and no one — get in his way."
Hell. Yes. Put this movie in front of my face immediately. Cold Pursuit also stars Emmy Rossum and William Forsythe, but lets be honest: you're going to see this thing to watch Liam Neeson bust some heads. And there's absolutely nothing wrong with that.
And here's a fun aside: in the original film, the main character (played by Stellan Skarsgård) was named Nils Dickman. I love that, for whatever reason, they decided to change the name but keep the phallic reference. Movies! Here's the In Order of Disappearance trailer, in case you want to compare the two films.
In Order of Disappearance Trailer
Neeson is keeping busy. The actor appeared in The Commuter earlier this year, and before 2018 ends he'll be seen in the thriller Widows and the Coen Brothers Western The Ballad of Buster Scruggs. Around the time The Commuter came out, the actor said he was probably done with action movies, only to later walk the statement back. Thank heavens for that. Never stop kicking ass, Liam Neeson.
Cold Pursuit opens on February 8, 2019.