New 'The SpongeBob Movie' Will Be An Origin Story About How He Got His SquarePants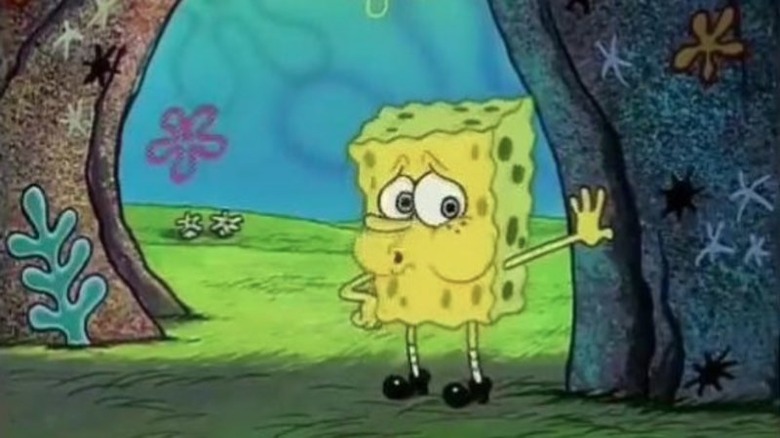 If you've ever wondered how SpongeBob came to live in a pineapple under the sea, you're just in luck. The next SpongeBob Squarepants movie, The SpongeBob Movie: It's A Wonderful Sponge will be an origin story all about how our favorite aquatic sponge came to be, and (probably) how he got those square pants.
At a conference in Italy, Paramount Animation President Mireille Soria revealed that the upcoming The SpongeBob Movie: It's a Wonderful Sponge will tell the origin story of the titular sponge (voiced by his longtime voice actor Tom Kenny) that riffs on Frank Capra's It's a Wonderful Life, according to Cartoon Brew.
The film will have not only have a "nice homage to the classic movie," Soria said, but will tell the origin story of the pop culture icon, 20 years after he was first introduced to the pop culture landscape:
"For the first time ever, we're going to the get to the origin of how little Spongebob met the rest of the Bikini Bottom gang at summer camp. The film's opening will take place at Camp Coral when all of our favorite characters meet for the first time."
The "Bikini Bottom gang" refers to SpongeBob's besties the dimwitted starfish Patrick Star (Bill Fagerbakke), the Southern squirrel Sandy Cheeks (Carolyn Lawrence), and possibly SpongeBob's future clarinet-playing neighbor and notorious grump Squidward (Rodger Bumpass). Actually, scratch Squidward, I can't imagine the other child-aged characters meeting this adult squid at camp — unless he appears as an idealistic clarinet teacher who quickly becomes disillusioned by the unruly camp-goers.
According to Cartoon Brew, the film is going to offer the "first-ever full CG version of the universe" with hybrid sequences with characters in the live-action world, much like the previous film, 2015's The SpongeBob Movie: Sponge Out of Water. Mikros Image has been tasked with developing the CG animation for the It's A Wonderful Sponge, having previously produced animation for Dreamworks' Captain Underpants: The First Epic Movie. Hans Zimmer is scoring the new SpongeBob film, which will third feature film in the series.
The SpongeBob Movie: It's A Wonderful Sponge is slated to be released in theaters on July 17, 2020.