'Aquaman' TV Spot: Jason Momoa Makes Waves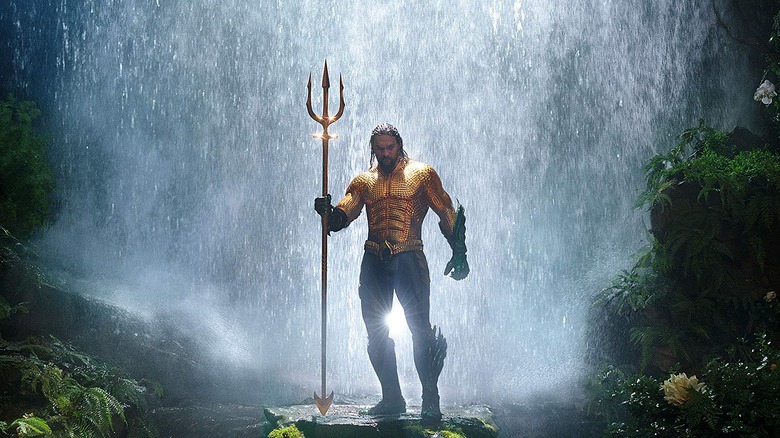 Have you always thought of Aquaman as the "Fish Boy"? Well, that's "Fish Man" to you. Warner Bros. has released a new Aquaman TV spot spotlighting the transformation of Jason Momoa's aquatic do-gooder to full-fledged hero.
Aquaman TV Spot
The fate of two worlds rides on the very hefty shoulders of Jason Momoa's Arthur Curry. Half-human, half-Atlantean, his parents (Nicole Kidman and Temuera Morrison) hoped that he would unite the worlds of land and sea. But in the future, all he's really done is save some submarines on TV, earning himself the nickname of "Fish Boy" from one local rowdy bar customer. Though at least he got to fight with the Justice League and coin the phrase "Yeah-yuh!" But soon Arthur will become a Fish Man, when Mera (Amber Heard) entreats him to take up his royal mantle and become the king he was always fated to be.
The TV spot is brief and mostly shows us footage we've seen before — apart from Arthur's encounter with above rowdy bar customers. But it does give us a nice long glimpse of Arthur in the classic gold and green Aquaman suit, which miraculously manages to look majestic and not silly. Mera's hair, on the other hand, will always take me out of the moment.
Aquaman is directed by James Wan and also stars Willem Dafoe, Patrick Wilson, Dolph Lundgren, and Yahya Abdul-Mateen II.
Here is the official synopsis for Aquaman:
From Warner Bros. Pictures and director James Wan comes an action-packed adventure that spans the vast, visually breathtaking underwater world of the seven seas, "Aquaman," starring Jason Momoa in the title role. The film reveals the origin story of half-human, half-Atlantean Arthur Curry and takes him on the journey of his lifetime—one that will not only force him to face who he really is, but to discover if he is worthy of who he was born to be...a king.
Aquaman swims into theaters on December 14, 2018.