'Alien Nation' Remake "Epic" And Set In Arkansas, Says Director Jeff Nichols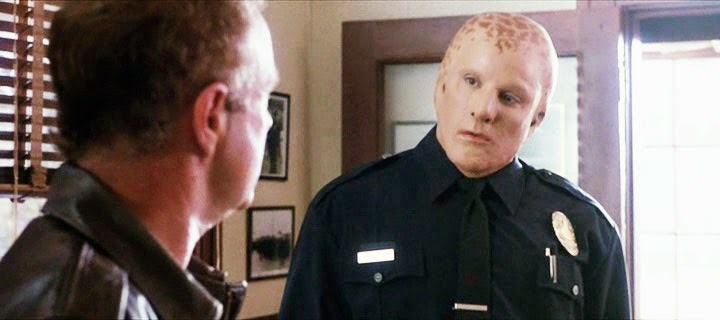 In the hands of director Jeff Nichols, the Alien Nation remake is not going to be just another buddy cop movie. When the news broke that Nichols was going to remake Graham Baker's entertaining sci-fi crime movie, it was hard imagining Nichols cranking out a routinely faithful remake. While the 20th Century Fox project could be his biggest project yet if it's given the green light, the filmmaker says the story is just as personal as his previous films.
The original movie is a conventional but well-done L.A. cop movie with a sci-fi twist: three years after aliens came to earth, they're now our neighbors, co-workers, and dance teachers. While well-intentioned, the film is a little too surface-level when it comes to its depiction of racism and xenophobia. The remake, however, may dig deeper than the original.
When we asked Nichols how the tumultuous last couple of years have influenced his writing, he replied: "How could it not? Just wait until you see Alien Nation." Now, whether we'll see it depends on how Disney's purchase of 20th Century Fox unfolds, but whatever happens, Nichols is staying positive about his next potential movie.
Here's what the Mud and Take Shelter director had to say about the Alien Nation remake:
So I've been working on Alien Nation like for two years, the screenplay. And I'm still ... I'm almost done with it. I'm hoping this draft that I'm working on now will be my last. The studio seems to really love it, and we're working on conception design of the aliens and everything else, and it happens to be a studio that's being bought by Disney right now. I'm working with Fox on it, so it feels a little bit like you're one of those monks doing those giant murals in sand. It might just blow away, which would be a real shame, but everybody at Fox has been so good to me about it. And they're so positive about it, obviously I'm trying to stay in the positive zone, and hopefully knock out this last draft.
It's epic. I mean, it's the biggest canvas I've ever painted on, but it 100 percent feels like a Jeff Nichols film, which I'm sure there are gonna be some Alien Nation fans out there that are like, "What the fuck?" But my hope is if they ... If people come to it just ready for a new story, that they'll like it. And I put my heart and soul into it. To be the project that's supposed to be me being a sell out, it is like the least ... I'm not saying that to save face or be cool. I put so much of myself into it, it takes place in Arkansas. There's so much of me in it.
When you're making something that big, there's just so many things that are out of your control. In a weird way, all you can control and concentrate on is the creative aspect. The winds will blow you where they blow you, but as long as you're telling to where you want to tell, and whenever that stops, then you gotta raise your hand and go, "Guys, this isn't gonna work for me anymore."
But so far, that's not been the case. So hopefully Alien Nation goes, I've got a couple of things that I won't say are more serious films, because Alien Nation is actually pretty serious, but there's a lot more traditional kind of adult movies. I've got a couple of those but I haven't settled on one, and then I've got a really another big PG, PG-13 kind of like summer blockbuster family film, which makes it sound real lame, but it's not. It's more like Mud, but with some bigger fantastical elements in it.
With his independent films, Nichols was able to make some grand images with limited resources, so the potential of his vision backed by a huge budget could be something to witness and a real event film. He's already written and directed Midnight Special, a sci-fi movie with great substance, emotion, and spectacle, so his return to the genre is more than promising. Especially if Alien Nation stars Michael Shannon as an alien.