'A Quiet Place' Cast Will All Campaign For Supporting Oscar Nominations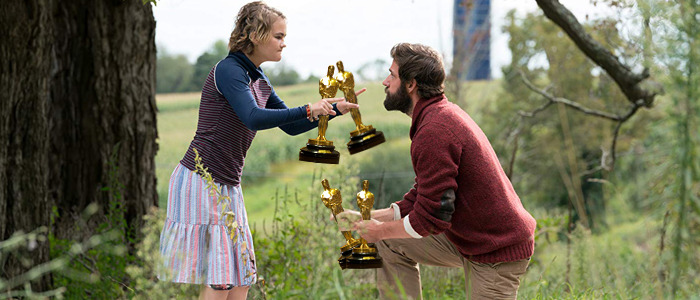 A Quiet Place hit theaters very early in 2018, but Paramount is apparently confident that awards voters have long memories: the studio is going to position the film's cast for potential Oscar nominations. A new report says that after a change in strategy, actors John Krasinski, Emily Blunt, Millicent Simmonds, and Noah Jupe will now all be competing in supporting categories. But will any of them get a nod?
According to a new piece in The Hollywood Reporter, Krasinski and Blunt, the real-life husband and wife team who play husband and wife in the film, were originally going to be pushed for potential awards in the lead categories while the actors who play their children would have been in supporting contention. But after some "additional consideration," they've since decided that the movie is more of an ensemble with no established lead. That necessitated a change in tactic, and now all four actors will be competing in their respective supporting categories (Best Actor in a Supporting Role and Best Actress in a Supporting Role).
THR cites Open Road's Tom Ortenberg as the originator of this particular awards-positioning technique, when he used it to earn a Best Supporting nomination for Matt Dillon in 2005's Crash. Little Miss Sunshine, Babel, Spotlight, and Moonlight have all taken a similar approach, so there's precedent for success here.
The outlet speculates that part of the reason behind this shift could be to protect Blunt from the (admittedly far-fetched) possibility of splitting votes in the lead actress category should she be nominated for her work in this winter's Mary Poppins Returns. Julie Andrews won an Oscar for Best Actress for originating the title character in the first film...although with today's voting body, a Best Actress nomination for Blunt is far from a sure thing.
In addition to shocking the industry with his effectiveness directing a genre picture, Krasinski delivered an emotional performance as the patriarch of a family who must survive in utter silence or be hunted by alien creatures that track their prey by sound. But as good as he was, Emily Blunt was far better. This was Krasinski's movie, but in terms of acting performances, Blunt ran away with it as a determined mother who's fiercely protective of her children. The kids were both solid, too, although deaf actress Millicent Simmonds likely has a much better shot at securing a nomination than Noah Jupe. That's not a dig against his performance, just an acknowledgement that the Academy loves a nice pre-packaged narrative, and a nod for the charismatic Simmonds would be quite the success story.