Steve Carell Joins Reese Witherspoon, Jennifer Aniston Apple Series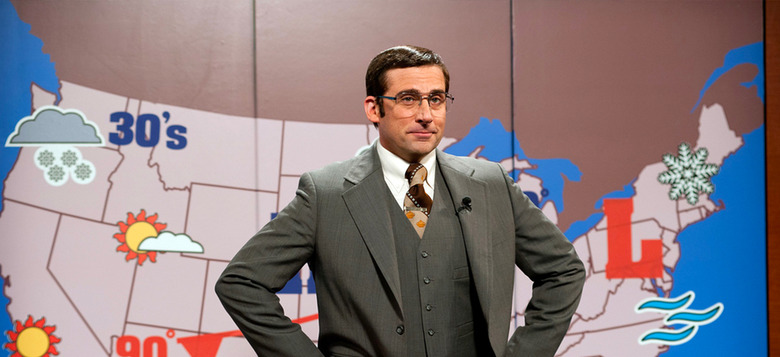 Apple continues to assemble a mighty impressive line-up of talent for their streaming service – now all they need to do is show us some footage. The latest big name to get on the Apple streaming bandwagon is Steve Carell, who will appear in the still-untitled "morning show" starring Reese Witherspoon and Jennifer Aniston.
Deadline has the news about Steve Carell joining the Reese Witherspoon/Jennifer Aniston Apple series. Carell will play "Mitch Kessler, a morning show anchor who is struggling to maintain relevance in a changing media landscape." Carell, of course, has a history playing news reporters. He rose to prominence as a correspondent on The Daily Show, and played broadcasters in Bruce Almighty, Evan Almighty and of course, Anchorman. Witherspoon and Aniston are also starring, but specific details about their characters haven't been made available yet. A show featuring Carell, Witherspoon and Aniston – household names one and all – is bound to get a lot of attention, whenever Apple decides to debut it.
The series – which still doesn't have a name – "provides an inside look at the lives of the people who help America wake up in the morning, exploring the unique challenges faced by the women (and men) who carry out this daily televised ritual." The untitled show will be written by Kerry Ehrin, based on an original idea Michael Ellenberg. Mimi Leder will direct. Brian Stelter's book Top of the Morning: Inside the Cutthroat World of Morning TV will serve as a partial inspiration for the show – although the series isn't considered a straight adaptation of Stelter's book. Apple ordered two seasons of the show after winning a bidding war.
Apple is developing a whole slew of original programs for their streaming service, including an Amazing Stories reboot, a thriller from M. Night Shyamalan, Carpool Karaoke: The Series, a show from The Big Sick team of  Kumail Nanjiani and Emily V. Gordon, a sci-fi series from Battlestar Galactica creator Ronald D. Moore, a Damien Chazelle drama, and many more. Apple is sparing no expense to make their streaming service special, but there have been some rumblings about how they're approaching content. A Wall Street Journal story claimed that Apple is going to extreme lengths to make their shows as family-friendly as possible, so much so that they pulled the plug on Vital Signs, a series inspired by the life of Dr. Dre, because it had too much sex and violence.
Apple's streaming service will likely arrive sometime in 2019.