New 'Halloween' Coming To IMAX Theaters For One Week Only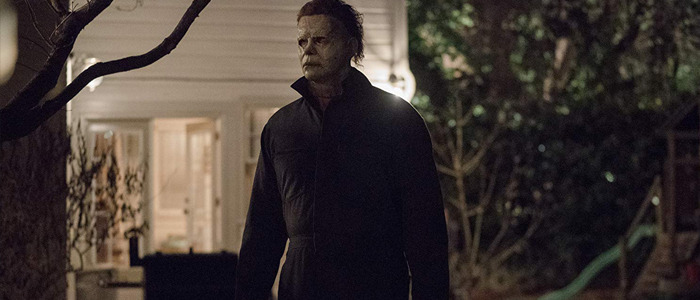 David Gordon Green's Halloween, the new sequel to John Carpenter's horror classic, has already stalked into theaters and broken some box office records, but now it's officially about to creep its way into IMAX theaters, too. But its IMAX run will only last for one week, so you'll need to act quickly if you want to see Jamie Lee Curtis's Laurie Strode go head to head with Michael Myers/The Shape on the biggest screen possible.
Halloween will be available in IMAX theaters for one week beginning this Friday, October 26, 2018. IMAX announced the news on their Twitter account this morning, citing popular demand as the reason for the film's upcoming engagement:
You asked, and we listened. By popular demand, #Halloween is coming to IMAX for one week only. pic.twitter.com/TvaIwWndkd

— IMAX (@IMAX) October 23, 2018
The question is, will seeing this movie in IMAX be worth it? Green didn't shoot any of the sequences using IMAX cameras, so it won't look as impressive as key moments in films like The Dark Knight or First Man.
Here's what it says about the conversion on IMAX's official website:
The IMAX release of Halloween will be digitally re-mastered into the image and sound quality of The IMAX Experience® with proprietary IMAX DMR® (Digital Re-mastering) technology. The crystal-clear images, coupled with IMAX's customized theatre geometry and powerful digital audio, create a unique environment that will make audiences feel as if they are in the movie.
It's a special feeling to be seated in an IMAX theater and see the film fill the screen during a jaw-dropping moment, but without shooting natively in IMAX format, this experience won't be able to compare on a visual level.
But perhaps the visuals aren't the main selling point here. Halloween isn't designed to blow your mind with its visuals anyway, and a case could be made that hearing the sounds of this film in an IMAX theater would be worth the price of admission. Experiencing that score, partially crafted by John Carpenter himself and featuring that eerie and iconic piano-driven theme, might be enough to convince audiences to shell out a few extra bucks to fully immerse themselves in the small town of Haddonfield.
Since I'm such a big fan of those magical moments when the picture fills the frame in an IMAX theater, I find it hard to recommend people drive extra long distances or pay extra to see this particular movie in that format. But that's just me.
Halloween is in traditional theaters right now, and its IMAX engagement begins this Friday.