Indiana Jones Land Possibly Coming To Disney's Hollywood Studios Theme Park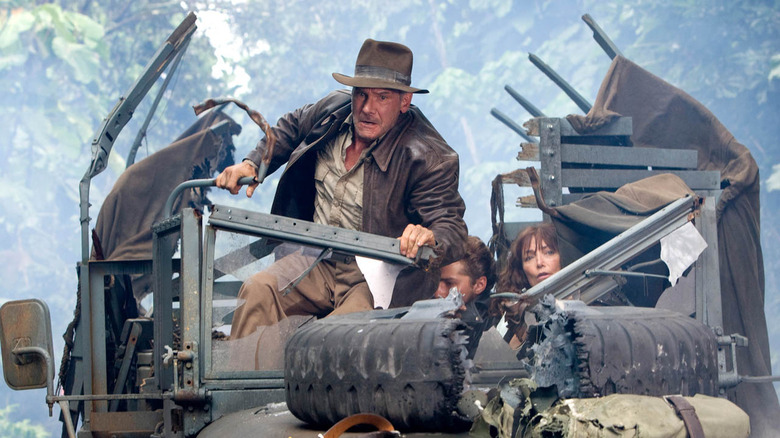 Indiana Jones may be getting an upgrade at Walt Disney World. As the theme park readies itself for a park-wide makeover ahead of the resort's 50th anniversary in 2021, it's reportedly looking to one of its underused properties. Though Indy has been at the center of an old-school stunt show for decades, Disney might soon be expanding the action property into a full-fledged Indiana Jones land.
According to Orlando Weekly, the Imagineers at Walt Disney World are considering the development of an Indiana Jones mini-land at Disney's Hollywood Studios. The project has been long rumored, with reports that the dated Indiana Jones Stunt Spectacular show would be retired, with Animal Kingdom's Dinoland and Dinosaurs attraction becoming transformed into Indiana Jones land.
However, Orlando Weekly reports that Indiana Jones land would likely be located in Hollywood Studios, replacing the area where the stunt show currently exists, as well as roughly 8 acres of the land around it. The land could eventually "include the area where Star Tours is currently located, as well as most other aspects of the Echo Lake section of the park." Orlando Weekly adds:
"Multiple attractions would be featured in the new land, likely including a signature E-ticket style attraction... ...the signature attraction for the Indy mini-land will be an indoor family attraction of some type that will use a previously realized ride system in a new way. Few details on the specifics of this ride have been shared by insiders, but it's thought that this ride will compete with the two Star Wars rides as one of the park's flagship attractions. As with Animal Kingdom's plan, the DHS one does seem to include an outdoor roller coaster attraction. Both Disneyland Paris and Tokyo DisneySea have Intamin versions of the Pinfari TL-59 looping coasters."
Disneyland in Anaheim, California already has a famous and well-regarded Indiana Jones ride, but the archaeologist adventurer's only presence in Walt Disney World until now has been the stunt show, which opened in 1989 and hasn't seen an update since 2004. Disneyland Paris also has its own popular Indiana Jones roller coaster, "Adventureland Temple du Péril."
Though the Indiana Jones land is being developed as part of Walt Disney World's 50th anniversary celebrations — which consist of a 25-acre transformation of Hollywood Studios beginning with the 11-acre Toy Story Land and culminating in the 14-acre Star Wars: Galaxy's Edge — the project would be viewed as a post-50th anniversary addition, Orlando Weekly reports. If plans for the Indiana Jones land come to fruition, it would open sometime after 2021, but within the next 10 years.