How Michael Biehn's Agent Helped Save 'The Terminator'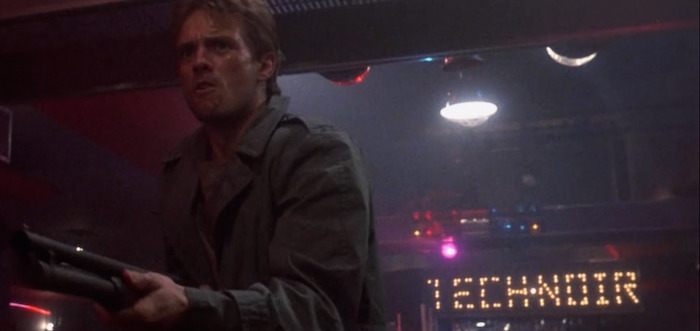 The Terminator is now a lucrative franchise with a sixth movie on the way. In 1984, it was a struggle just to get the studio to screen the original. film. Producer Gale Anne Hurd was honored with a Lifetime Achievement Award at Screamfest and spoke about her work before screenings of Aliens and The Terminator.
"Even though it's commonplace today, the head of marketing there so hated the film, he didn't want to screen it for critics," Hurd said. "Back in 1984, that just wasn't done. The head of marketing at Orion basically said, 'We're embarrassed to release this morning. It's a down and dirty exploitation movie. Once word of mouth gets out, it'll be out of theaters after the first weekend. You won't even get a second weekend so we're not even going to give you advertising support second weekend.'"
Maybe if Orion knew what a classic they had on their hands, they wouldn't have gone bankrupt for most of the '90s and '00s. Even now, studios usually only withhold press screenings for horror movies or famously troubled productions. There hadn't been that kind of troublesome buzz on The Terminator.
In the end, Kyle Reese (Michael Biehn) did more than just save Sarah Connor from The Terminator and father John Connor. Biehn's agent was the one who strongarmed Orion into screening The Terminator.
"God bless him, Michael Biehn's agent, the late Ed Limato, who represented Richard Gere, Mel Gibson and Denzel Washington in addition to Michael Biehn, called up Orion and said, 'I've seen the movie. It's fantastic. If you don't believe in the films you make, I don't know that I'm going to have any of my actors work for you.'" Hurd shared.
Hurd, Limota, James Cameron and The Terminator had the last laugh. The Terminator not only became a hit, but was well-reviewed by critics.
"They screened the film for critics and it became one of Time Magazine's 10 best of the year list," Hurd said.
After the press screening, Hurd recalled watching The Terminator with the very first paying audience.
"The first screening we had on Hollywood Boulevard of The Terminator, a midnight screening where people went crazy, we had no idea until then," Hurd said. "We didn't have a number of out of town screenings. We really didn't have test screenings. There had been one that didn't go well so we were afraid that maybe the marketing execs at Orion might be right and there'd be terrible word of mouth and after the second weekend we'd be out of theaters. That was the biggest high of my career, was standing in the back of the theater watching the film, watching the audience watch the film."