Exclusive 'Maximum Overdrive' Blu-Ray Clip Praises Stephen King's Only Directorial Effort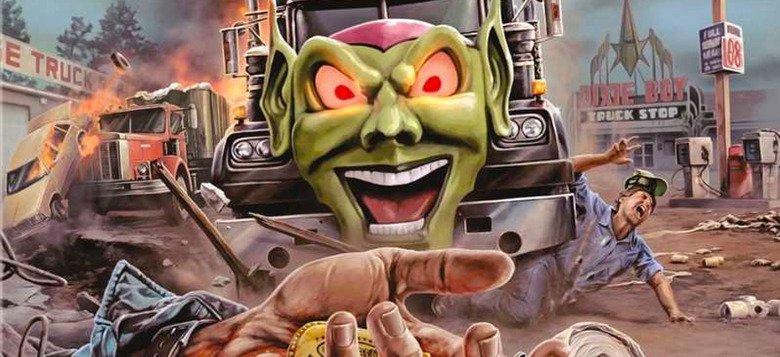 While he's had his hand in several screenplays, Stephen King only directed one movie: Maximum Overdrive. Widely panned when released in 1986, the killer truck film has achieved a kind of cult status, where fans admire the film for its goofball charms. Vestron Video is releasing a new Maximum Overdrive Blu-ray this week, and we have an exclusive clip for you below.
Stephen King made his directorial debut in 1986 with Maximum Overdrive, an adaptation of his short story Trucks. It would end up being the only movie the prolific author ever directed, and probably with good reason – it's not very good. But there's a somewhat appealing quality to King's film, which is unapologetically over-the-top and features scenes where soda machines kill people as music from AC/DC blasts. Vestron Video is releasing Maximum Overdrive on Blu-ray for the first time ever, and the disc comes loaded with new featurettes. Sadly, King himself is not involved with any of this new material – he likely wants to forget about this film. But for fans of Maximum Overdrive (who do exist!), this release is for you. We have an exclusive clip from the Blu-ray, which you can watch below. The clip is all about how fun it is to work on a genre picture, as opposed to a boring-old drama.
Maximum Overdrive Blu-ray Clip
The Maximum Overdrive Blu-ray hits shelves on October 23, 2018. A full list of special features can be seen below.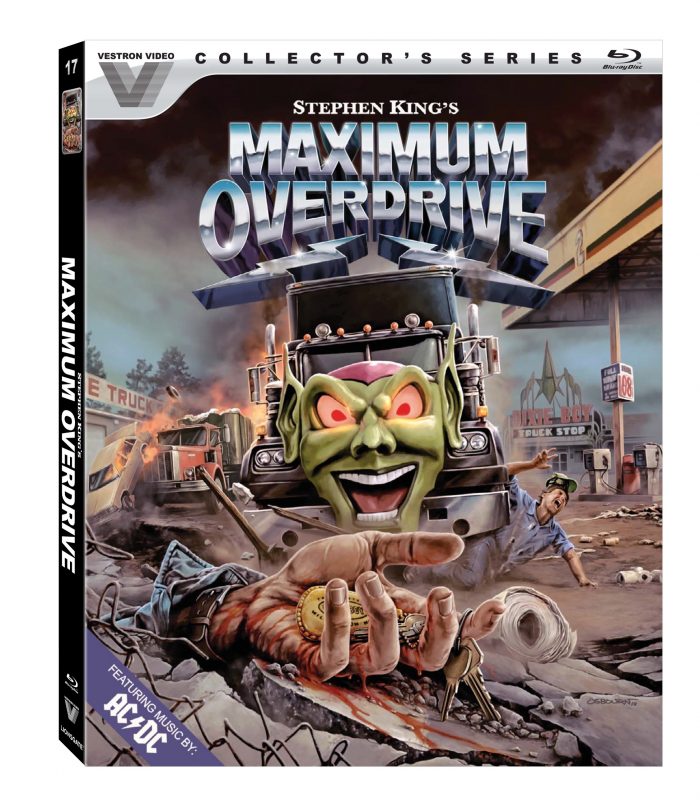 Get ready for the ultimate battle of man vs. bloodthirsty machine in this terrifying Stephen King classic! For three horrifying days, the Earth passes through the tail of a mysterious comet. The skies glow an eerie green as humanity waits to see what the fallout will be. But what they imagine is nothing like the nightmare they find — the comet's magnetic fields cause all the machines on Earth to suddenly come to life and terrorize their human creators in a horrific killing spree. Now, it's up to a small group of people trapped in a desolate truck stop to defeat the killer machines — or be killed by them!
BLU-RAY SPECIAL FEATURES
NEW: Audio Commentary with Writer Tony Magistrale, Author of Hollywood's Steven King
NEW: Audio Commentary by Actor and Comedian Jonah Ray and Blumhouse Film Executive Ryan Turek
NEW: "Truck Stop Tales" Featurette – An Interview with Producer Martha De Laurentiis
NEW: "Rage Against the Machines" Featurette – An Interview with Actress Laura Harrington
NEW: "Honeymoon Horrors" Featurette – Interviews with Actor John Short and Actress Yeardley Smith
NEW: "Maximum Carnage" Featurette – An Interview with Make-Up Effects Creator Dean Gates
"A Kid in King's Court" Featurette – An Interview with Actor Holter Graham
NEW: "The Wilmington Factor" Featurette – A Look Back at the Filming of Maximum Overdrive with Members of the Production Crew in North Carolina
NEW: "Who Made Who?" Featurette – An Interview with Murray Engleheart, Co-Author of AC/DC: Maximum Rock & Roll
NEW: "Goblin Resurrectus" Featurette – The Restoration of the Happy Toyz Golbin
Behind-the-Scenes Footage
Maximum Overdrive Trailer