Why Jet Li Turned Down A Role In 'The Matrix'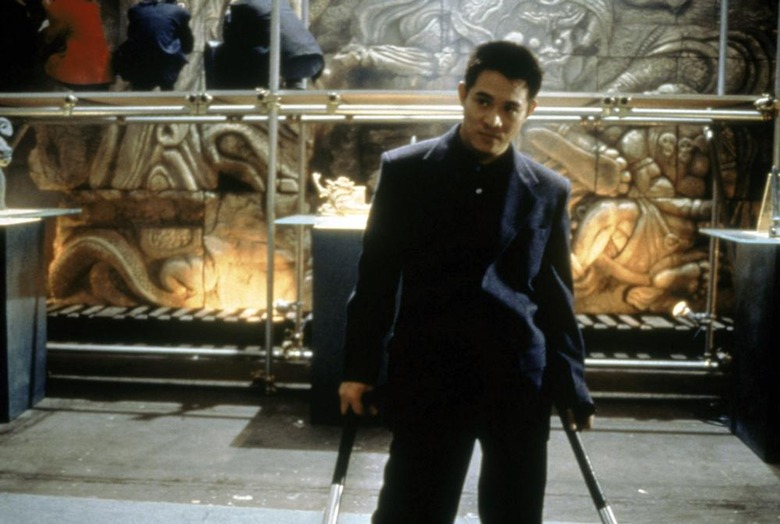 The Matrix seemed like a franchise tailor-made for Jet Li. The Wachowskis' mind-bending sci-fi series that began in 1999 featured brooding heroes in black coats with insane martial arts skills — all elements that Li had down pat.
And the Chinese action star was actually offered a part as Seraph in The Matrix Reloaded and The Matrix Revolutions, only to turn it down. But he has a good reason for turning down a part in the defining sci-fi franchise of the '90s and early 2000s.
In a recent interview with Abacus News, Li revealed that the reason he turned down the role of Seraph in 2003's The Matrix Reloaded was related to the technology cautionary tale that the Matrix franchise was warning against. Li didn't want the film's Hollywood producers to "own" his martial arts moves as intellectual property and possibly digitally reproduce them with another person's face:
"I realized the Americans wanted me to film for three months but be with the crew for nine. And for six months, they wanted to record and copy all my moves into a digital library. By the end of the recording, the right to these moves would go to them.
I was thinking: I've been training my entire life. And we martial artists could only grow older. Yet they could own [my moves] as an intellectual property forever. So I said I couldn't do that."
That's something that probably didn't even occur to fans of The Matrix, but that's Jet Li for you, thinking five steps ahead. While digital effects in the early 2000s probably couldn't have accurately created a digital doppelgänger that could imitate Li's fighting style, the technology today probably could. And let's not forget that a whole conceit of The Matrix is the ability to "download" kung fu moves into one's brain.
After Li turned down The Matrix, the role of Seraph went to Taiwanese actor and martial artist Collin Chou, who played the character in both The Matrix Reloaded and The Matrix Revolutions. Interestingly, Li wasn't even the first actor to turn down that role — Seraph was originally written as a woman with the Wachowskis approaching Michelle Yeoh to play it. She ultimately turned down the role due to scheduling conflicts.
Li has been out of the spotlight since last appearing in a Hollywood film in 2014's The Expendables 3. He'll next be seen in Disney's live-action Mulan, set to hit theaters on March 27, 2020.