'A Quiet Place' Sequel Will Be Written By John Krasinski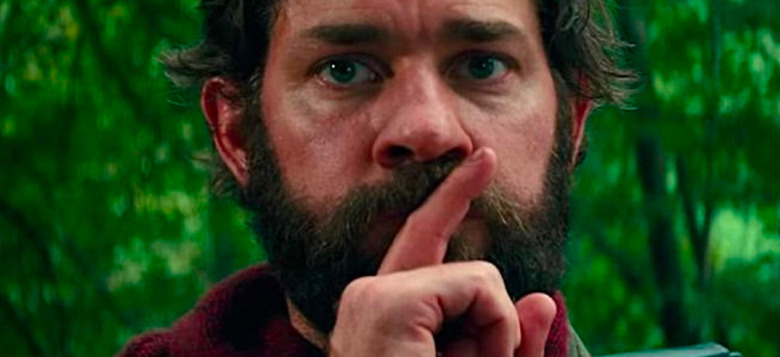 We all assumed this would happen, and now it's official: John Krasinski is writing the Quiet Place sequel. The minute a sequel for the hit horror film was announced, it was confirmed that Krasinski would be involved in some capacity. While he may not direct, it's clear now that he'll definitely be contributing to the script.
Back when A Quiet Place 2: A Quieter Place (not the actual title) was first announced, Jim Gianopulos, chairman and CEO of Paramount said that the sequel would be in the hands of "the same group of people that made the first film." That likely meant that director John Krasinski would be involved, along with the script's original writers, Bryan Woods & Scott Beck. Since then, Woods and Beck confirmed they had ideas for a sequel. Now, Krasinski has confirmed he's writing the script. The director/actor/writer told THR:
"I had this small idea for a sequel, but I didn't think it would go anywhere. So, I said to the studio, 'Just go do the movie with somebody else.' They heard some pitches, and I told Drew [Form, producer] about this little idea, and he told me to think about it a little longer. And then I thought, 'This might really work.' So, I'm currently writing the sequel."
While it's great that Krasinski is involved, it's unfortunate that Woods and Beck are not. The duo are the guys who came up with the entire idea, and Krasinski only came on board later. Meanwhile, we still have no idea who is going to direct the film. It seems unlikely at this point that Krasinski will direct – he's got Jack Ryan on his plate, after all.
We also don't know what the movie will be about. Are we going to stick with Emily Blunt and her children, or will a whole new set of characters be introduced? Krasinski previously indicated the latter idea was what most-appealed to him.
"The thing that I loved in the movie," he told Deadline, "where my mind kept wandering as we were making it, was the question of who was on the other end of those fires, when the father lights the fire and in the distance those other fires light up. How did those people survive? How did that old man survive? In the extreme these characters are going through, there's no room to think about that. They're there, there's an old man who's about to scream, they just have to deal with that. I think it would be interesting to see what's going on elsewhere at this same time."
Personally speaking, I like this idea. It would be better to open the world up and focus on new characters instead of just staying with the individuals we already met. We'll likely know more about the film sooner rather than later, because the official release date is set for May 15, 2020.