'The Clovehitch Killer' Trailer: Dylan McDermott May Be A Serial Killer Dad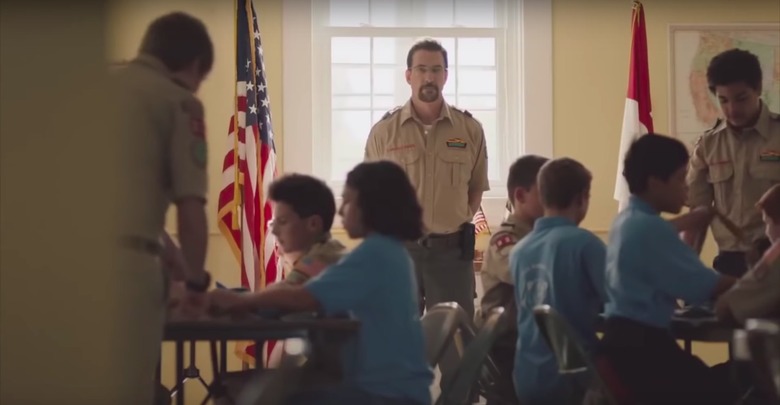 Dylan McDermott may be a serial killer. Or he may just be a really creepy dad. The upcoming thriller The Clovehitch Killer follows a teenager (Charlie Plummer) who begins to suspect that his church-going father may actually be a bloodthirsty serial killer responsible for the deaths of at least 10 women. Watch The Clovehitch Killer trailer below.
The Clovehitch Killer Trailer
Directed by Duncan Skiles, this IFC Midnight release follows teenager Tyler Burnside (Plummer) who starts to suspect that his dad Don (McDermott), a pillar of the community and a straightlaced churchgoer, may have been behind the slew of brutal unsolved murders that plagued their small Kentucky town more than a decade ago. The serial killer was only known as the Clovehitch killer, named for the knots that he left at his crime scenes. The killer was never caught, but when Tyler discovers some disturbing pictures in their backyard tool shed, he fears that his loving father may be the culprit.
The Clovehitch Killer premiered at the LA Film Festival in September 2018, where it was mostly met with positive reception. The Hollywood Reporter praised the "intriguing perspective on the dark side of Americans values" but said that the film "lacks the conviction to entirely expose the cultural contradictions that often enable compulsive murderers ... It's a missed opportunity."
In terms of parental serial killers, it probably won't garner the same cult success as Serial Mom, but it will probably get a decent release when it hits theaters and digital platforms next month.
Here is the synopsis for The Clovehitch Killer:
After Tyler finds a cache of disturbing images in his father's possession, he begins to suspect that the man he trusts most in the world may be responsible for a series of unsolved murders.
The Clovehitch Killer hits theaters and digital HD platforms on November 16, 2018.