Pop Culture Imports: 'La Haine,' A Bollywood Historical Epic, A Trashy Spanish 'Gossip Girl'-Style Series, And More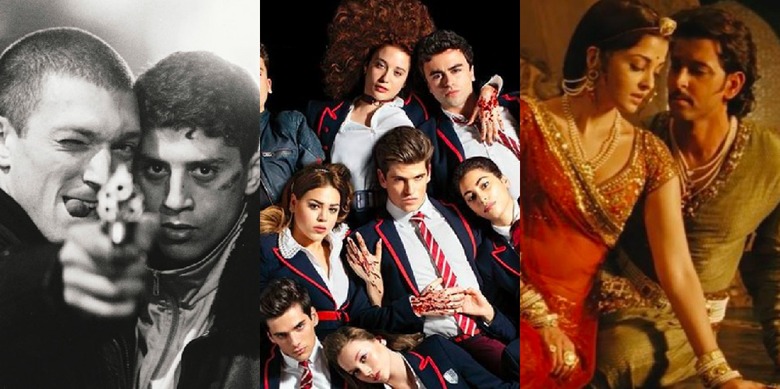 (Welcome to Pop Culture Imports, a column that compiles the best, wackiest, and weirdest foreign-language movies and TV shows streaming right now.)
Remember when I promised you a horror-themed foreign streaming column? Never mind — there are too many other great foreign movies and TV shows to highlight every week. And besides, you'll get plenty of horror content elsewhere. Here, you'll find only subtitles and maybe one Danish zombie movie. This week we have the pivotal and disturbingly timely French crime drama La Haine, as well as the beloved Bollywood epic Jodhaa Akbar, Netflix's trendy Spanish teen thriller series Élite, a popular Korean medical drama, and Danish zombies.
Let's get streaming.
La Haine – Filmstruck
Country: FranceGenre: Crime dramaDirector: Mathieu KassovitzCast: Vincent Cassel, Hubert Koundé, Saïd Taghmaoui.
Though it wears its inspiration from cinematic classics like Do the Right Thing and Taxi Driver on its sleeves, La Haine is so much more than the sum of its parts. Released in 1995, Mathieu Kavitz's potent crime drama takes place amidst social unrest and race riots spreading across France at the time. So it's chilling just how relevant La Haine remains today. Presented in a stark white-and-black palette and following 24 hours in the day of three young men from the impoverished banlieues of Paris, La Haine is an unrelenting portrait of urban rage. But as much as the film seethes with anger and injustice, it also taps into the ennui that comes with the helplessness of poverty. The three friends — the angry Travis Bickle-wannabe, Vinz (Vincent Cassell, in his breakout role), the wise boxer and small-time drug dealer, Hubert (Hubert Koundé) and the gently timid Said (Saïd Taghmaoui) — wander aimlessly throughout the suburbs in the aftermath of a riot instigated by a shocking instance of police brutality. La Haine is a simmering pot of tension and anger just waiting to come to a boil in the form of Cassell's Vinz, who comes into possession of a gun and vows vengeance against the police. There's no better depiction of the vicious cycle of social class and cruelty than La Haine, which feels as visceral today as it did 23 years ago.
Watch This If You Like: Fight Club, Straight Outta Compton, American History X, over-pronouncing French words to sound sophisticated.
Jodhaa Akbar – Netflix
Country: IndiaGenre: Historical romanceDirector: Ashutosh GowarikerCast: Hrithik Roshan, Aishwarya Rai, Sonu Sood, Kulbhushan Kharbanda, Ila Arun.
Bollywood knows that the only good historical epics are the three-hour sagas laden with lush visuals, yearning stares, and a musical score from acclaimed composer A.R. Rahman (Slumdog Millionaire) that still freaking slaps. Based on the real-life romance between the Mughal Emperor Jalal-ud-din Muhammad Akbar (Hrithik Roshan) and the Rajput Princess Jodhaa Bai (Aishwarya Rai), Jodhaa Akbar chronicles the Mughal conquest of Hindustan and the religious rifts that lead to bloody rebellions early in his reign. But when he secures an alliance with the Hindu Rajput clans by marrying the beautiful princess Jodhaa, their flowering romance eventually brings about peace throughout the empire — but not without some battles, dance sequences, and political intrigue sprinkled in along the way. It's no wonder that Jodhaa Akbar has been hailed as a beloved Bollywood classic. Director Ashutosh Gowariker, fresh off the success of his acclaimed sports drama Lagaan, tackles another historical epic with a bigger budget, bigger stars, and an even more assured hand. A.R. Rahman's score and songs are as breathtaking as Gowariker's gorgeous cinematography, but none are more breathtaking than stars Roshan and Rai. The lead stars do more than coast by on their mutual attractiveness, they load each gesture and glance with trembling emotion, helping to anchor this dense epic with a romance for the ages.
Watch This If You Like: Gladiator, Cleopatra, Padmaavat, seeing Dhoom 2 co-stars Hrithik Roshan and Aishwarya Rai in a steamy reunion!!
Élite – Netflix
Country: SpainGenre: Teen drama seriesCreator: Darío Madrona, Carlos MonteroCast: Omar Ayuso, Miguel Bernardeau, Mina El Hammani.
What if Riverdale got Gossip Girl drunk one night and made a baby while marathoning Big Little Lies? It would look a lot like Élite, Netflix's Spanish teen crime drama and your new favorite trashy obsession. Élite follows three working class students who, by circumstance, are offered scholarships to a wealthy, exclusive private school. Upon arriving for their first day, they're immediately met with animosity from their wealthy classmates who love to scheme and have sex in public places. But this trashy teen soap is leant an intriguing twist by the show's timeline-skipping structure, bookending all the high school drama with a flashforward sequence in which a police officer interrogates the major characters about a murder that takes place on campus. Élite is just what it looks like: hot, horny teens backstabbing and gossiping their way around a glamorous private school that later becomes the site of a horrible incident. But that's what makes it so fun. I won't pretend there's anything deep about watching Élite — though the series does delve into sensitive cultural issues like closeted gay teens, STDs, racism, xenophobia, and corruption. But if you're not one for partying on Halloween, and you like your wine with a side of murder, throw Élite onto your TV screen.
Watch This If You Like: Gossip Girl, Riverdale, Pretty Little Liars, drowning yourself in a giant wine glass until it looks like you Gone Girl'd yourself.
What We Become – Hulu
Country: DenmarkGenre: HorrorDirector: Bo MikkelsenCast: Mille Dinesen, Troels Lyby, Benjamin Engell, Marie Hammer Boda.
When zombies first entered the pop culture consciousness in 1968's Night of the Living Dead, they were new, strange, and unfamiliar — and nothing is more frightening than the unknown. But in the 50 years since then, zombies have become par for the course. There are zombie runs, zombie bars, hundreds of zombie satires — all of which have effectively rendered the zombie genre toothless. The Walking Dead tries to circumvent that by introducing a world where zombies had never existed in pop culture, giving them teeth and novelty once again. The Danish zombie film What We Become does the same, with an added local twist. Bo Mikkelsen's 2016 horror movie follows a suburban family whose peaceful summer is interrupted by the sudden spread of an incurable virus that results in the government instituting a rigid quarantine around their once-idyllic neighborhood. After months of isolation, tempers flare and soon, all hell breaks loose. What We Become has some spectacularly stupid characters and follows a fairly standard zombie narrative, but cleverly plays with our expectations of the genre in a claustrophobic character drama that carries more than a few nods to the George Romero classic. But the most harrowing part of this movie isn't the gore (which this movie has in bloody spades) but the idea that the most dangerous monster is the very thing meant to protect us.
Watch This If You Like: 28 Weeks Later, World War Z, Fear the Walking Dead, watching zombie movies on Halloween.
Life - Netflix
Country: South KoreaGenre: Medical drama seriesCreator: Lee Soo-yeon, Hong Jong-chanCast: Lee Dong-wook, Cho Seung-woo, Won Jin-ah, Lee Kyu-hyung, Yoo Jae-myung, Moon So-ri.
In a TV landscape saturated by one-too many medical dramas featuring a maverick male doctor, Life offers the K-drama antidote. Kind of. This ensemble medical drama shifts the focus from procedural character dramas to the hospital politics — specifically, the corrupt hospital politics that may be covering up a sinister murder. Created by the same team behind last year's acclaimed Bae Doona drama Stranger, Life is oh so very eager to prove how serious it is. With a brooding Lee Dong-wook (returning to a leading man role after a fan-favorite turn in the stellar Goblin) leading the all-star cast, Life is all twisty narratives and somber stand-offs. The drama follows the dual narratives of ER Doctor Lee Bo-Hoon (Lee) and the newly appointed hospital president Gu Seung-hyo (Jo Seung-woo) as an ER staff scrambles to maintain their struggling department all the while the mysterious death of a hospital director looms overhead. A character drama wrapped in a murder mystery wrapped in political intrigue, Life plays out like a chess match between two figures who you're not entirely sure the identities of, but the non-linear storytelling and Lee's fascinatingly restrained performance makes it worth a watch.
Watch This If You Like: House, ER, The Night Shift, hot doctors who aren't banging.