'Deadpool 2' Star Zazie Beetz Auditioned To Play X-Men's Storm, Dodged A Bullet By Not Getting The Part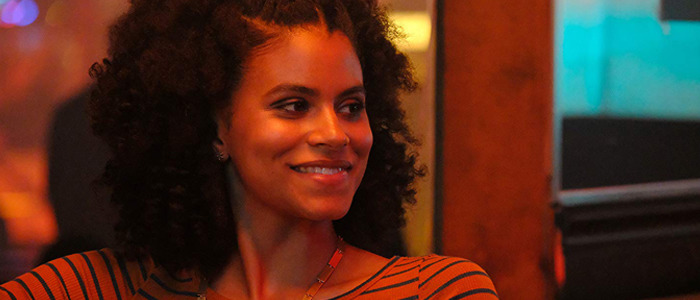 Zazie Beetz, who stars in FX's Atlanta and made a big impact in theaters earlier this year as the lucky superhero Domino in Deadpool 2, attended ACE Comic Con in Chicago this past weekend. During a Q&A session, the actress revealed that before she snagged the role of Domino, she auditioned to play Storm in X-Men: Apocalypse. Read Beetz's full quote below.
At ACE Comic Con (via ComicBook), someone asked Beetz which Marvel character she would play if she had her choice, and she revealed that she previously tried out for the role of Ororo Munroe:
"I mean, when I was a kid, I remember, in terms of characters, people would always be like, 'You should be Storm.' I auditioned for young Storm, actually, and I didn't get it...I don't remember the actress's name who played her, but she shaved her head, so I was like, 'Oh, not me. Not right now.' Growing up I always had an association with her. I mean, obviously, because being a young black woman, that was the one I associated with. But I think that would have been a little fantasy of mine to do that and sort of a nostalgic thing for me to try. So yeah, I'd say Storm."
Alexandra Shipp ended up getting that part in 2016's X-Men: Apocalypse, but like so many of the characters in that film, the role wasn't entirely fleshed out and just felt like a missed opportunity for such an iconic character. Unfortunately, Storm has been one of those X-Men characters that never really got her due on the big screen; even Halle Berry didn't have much to work with when she portrayed her in the first three X-Men films. Beetz definitely dodged a bullet with that one, and it all turned out fine for her: she was able to bring some real charisma and personality to Domino, whereas I don't think the opportunity was there for her to do the same with Storm in Apocalypse (which, by the way, is easily one of the worst superhero movies of the past few years).
Storm and Domino aren't the only comic book movie characters Beetz has her eye on. She was cast in a supporting role in Todd Phillips' Joker, and from what we can tell, she'll be playing a single mother who catches the interest of Joaquin Phoenix's proto-version of the Clown Prince of Crime. Beetz couldn't reveal much about that movie during her Comic Con appearance, but she did say "it's a really good script," so take from that what you will.