Netflix Plans To Keep Making Marvel Shows For The Foreseeable Future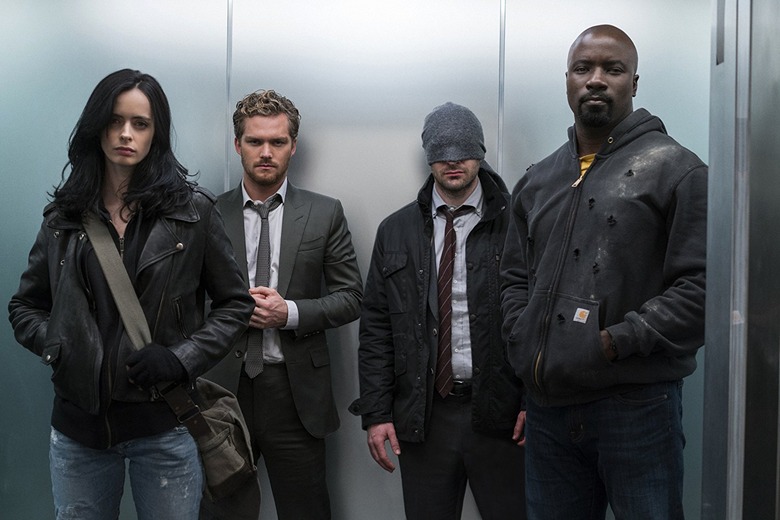 The Netflix Marvel TV shows aren't going away any time soon. Despite the looming threat of the upcoming Disney streaming platform and Netflix's surprising decision to cancel Iron Fist after the better-received second season, Netflix isn't ringing the death knell for its acclaimed Marvel series.
The Marvel universe stopped being #AllConnected a long time ago, but Netflix is adamant on maintaining its universe of street-level superhero shows. Reports about the upcoming Disney streaming platform confirmed that the Marvel shows Daredevil, Jessica Jones, Luke Cage, The Punisher, and The Defenders would stay at Netflix, but what would their future look like as Disney begins to launch its own original Marvel shows? Basically the same, Netflix's Chief Content Officer, Ted Sarandos said (via Inverse).
"Those shows are for us to cancel and we're super happy with their performance so far."
The company's Q2 earnings report suggested that Netflix plans to continue running its Marvel shows for the foreseeable future even as Disney and Netflix's original deal collapses. We may no longer be getting new Netflix Marvel shows, but that doesn't preclude the ongoing series from getting third, fourth, or even fifth seasons.
Inverse notes that, based on Sarandos' statement, Netflix may have designed its contract with Marvel to allows the streaming giant control over these characters' TV iterations. Could that potentially mean a spin-off series for Iron Fist, based off of Netflix and Marvel's cryptic statement, "While the series on Netflix has ended, the immortal Iron Fist will live on"? It's possible.
We can probably expect a fourth season of Daredevil, third seasons of Luke Cage and Jessica Jones, and a second season of The Punisher. But the only series left up in the air is The Defenders, the miniseries which teamed all the solo heroes together. Netflix has renamed its Defenders Facebook page "NX" (the brand for the service's social media accounts created to promote geeky Netflix content) in September, and there remains no official announcement of a follow-up season. While the series hasn't officially been cancelled altogether, it would make sense that Netflix drops The Defenders as the last remnant of the old Marvel-Netflix partnership.