'The Aftermath' Trailer: Keira Knightley And Alexander Skarsgard Enter A Steamy Post-War Affair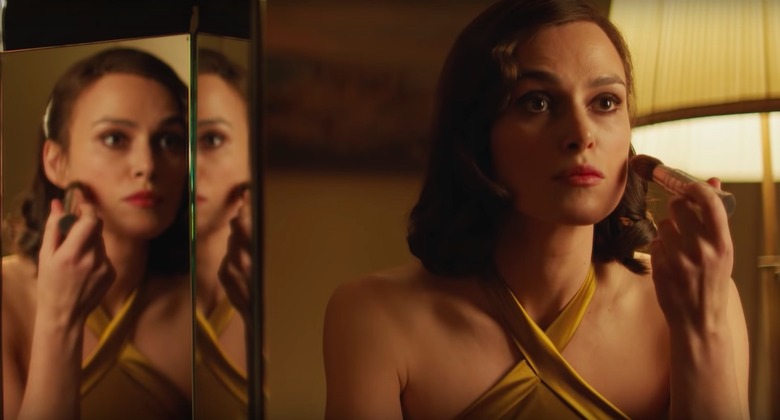 Only a week has passed since the last Keira Knightley period piece, and already another one is on its way. At this point, you'd expect the Colette star to have her hair in permanent early 20th century curls, with a corset at the ready in her closet. But she'll only be needing the former in The Aftermath, a post-World War II romance drama also starring Alexander Skarsgard and Jason Clarke. See the first The Aftermath trailer below.
The Aftermath Trailer
Knightley stars as the wife of a British colonel (Clarke) who moves to postwar Hamburg as her husband helps to rebuild the city. But she is distressed to learn that they'll be sharing a house with the previous German owners, including the very hot widower played by Skarsgard. Naturally, Clarke's Colonel Morgan must leave to oversee reconstruction efforts, leaving Knightley and Skarsgard alone in the house with only the simmering tension to keep them company. You know what happens next. Knightley and Skarsgard both looking like they do, it's only inevitable when they fall into bed with each other — which makes it all the more awkward when the colonel returns.
The film is based on a novel of the same name by Welsh writer Rhidian Brook and is produced by Ridley Scott's Scott Free Productions, with Scott serving as executive producer. Directed by James Kent (Testament of Youth) with a screenplay from Joe Shrapnel and Anna Waterhouse (Frankie and Alice), The Aftermath is pretty par for the course for a period romance film. But hey, you get to see Knightley swan around in gorgeous 1940s dresses! Skarsgard chops wood! What more could you want?
Here is the official synopsis for The Aftermath:
THE AFTERMATH is set in postwar Germany in 1946. Rachael Morgan (Keira Knightley) arrives in the ruins of Hamburg in the bitter winter, to be reunited with her husband Lewis (Jason Clarke), a British colonel charged with rebuilding the shattered city. But as they set off for their new home, Rachael is stunned to discover that Lewis has made an unexpected decision: They will be sharing the grand house with its previous owners, a German widower (Alexander Skarsgård) and his troubled daughter. In this charged atmosphere, enmity and grief give way to passion and betrayal.
The Aftermath opens in theaters on April 26, 2019.