'Miss Bala' Trailer: Gina Rodriguez Finally Becomes An Action Star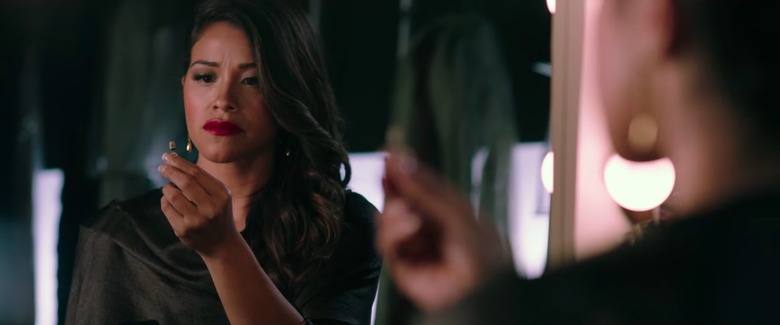 Welcome to the era of Gina Rodriguez, action star. The Jane the Virgin star and Annihilation scene-stealer is finally stepping into the role that she was always meant to be in: action hero.
Rodriguez makes her action star debut in the Miss Bala trailer, where she plays a young woman forced to become a mole for the DEA in a drug cartel. But like the action greats before her, she takes things into her own hands when her "family" is threatened.
Miss Bala Trailer
After the death of her parents, Los Angeles resident Gloria travels to Tijuana with her best friend, where they witness a murder and are taken hostage by a drug cartel. Pulled into the dangerous and complicated orbit of the cartel, Gloria ends up working for the DEA as a mole — but that is all thrown out the window when she finds her friend Isabel (Aislinn Derbez) still alive. The only "family" that she has left, Gloria will stop at nothing to save her friend — and the action-packed result is, dare I say, glorious.
Directed by Catherine Hardwicke (Thirteen, Twilight), Miss Bala is based off the Mexican film of the same name. The 2011 Cannes Festival favorite was in turn inspired by real-life events of a former pageant queen who was arrested transporting munitions with suspected gang members. The premise of a pageant queen-turned-cartel member is kind of lost in the remake (Rodriguez's Gloria is just in Tijuana to party and mourn her parents?) but the inspiring transformation of a wallflower into a badass remains.
Miss Bala feels like the beginning of a new era in a (hopefully) long career for Rodriguez, who first broke out in The CW's telenovela satire Jane the Virgin. Her sweet and captivating performance in the comedy series, which wraps its fifth and final season next year, couldn't prepare us for her formidable turn as a butch, foul-mouthed parademic in Annihilation, in which she threatened to steal the movie from Natalie Portman. But even then, Rodriguez said she never thought she'd be able to lead an action film, explaining in an interview with Entertainment Weekly:
"I had been dying to do action for so long, and it's very difficult because people of color don't have as many opportunities. And that's not even like a 'Woe is me.' That's just a reality, and that's okay. That has been a reality of mine for many, many, many years. [With 'Miss Bala'], Sony made a big-budget action film with a 95 percent Latinx cast and 95 percent Latinx production crew. It's revolutionary. It's just really great to live in these spaces that for so long I didn't have the opportunity to."
Rodriguez leads a mostly-Latinx cast, which also includes Ismael Cruz Córdova, Matt Lauria, Ricardo Abarca, and Anthony Mackie.
Here is the official synopsis for Miss Bala:
Gloria (Gina Rodriguez) finds a power she never knew she had when she is drawn into a dangerous world of cross-border crime. Surviving will require all of her cunning, inventiveness, and strength.
Miss Bala opens in theaters on February 1, 2019.