'Jonathan' Trailer: Ansel Elgort Is Split Between Two Personalities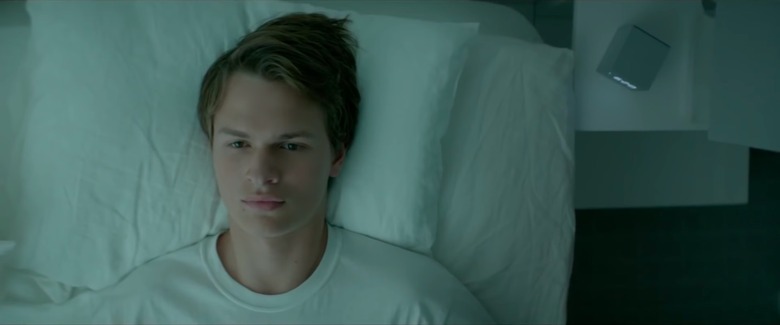 Maybe two is better than one, but not for Ansel Elgort in Jonathan. The Baby Driver actor stars in a sci-fi thriller as two minds stuck in one body whose fragile harmony is shattered over — what else? — a girl.
Jonathan Trailer
In the feature film debut from director Bill Oliver, Elgort stars as the titular character, a successful and straightlaced architect with a unique disorder. Jonathan has single body multi-consciousness, which has forced him to live a sort of Jekyll-and-Hyde life — Jonathan living in control during the day, with John taking over the evenings. But John is not amenable to the strict rules that Jonathan has imposed upon their lives and soon starts causing trouble for the two of them, especially when he starts a relationship with a secret girlfriend, Elena (Suki Waterhouse). Jonathan forces his other persona to break up with the girl, and of course, starts dating her, which doesn't go over well with John. And that's where things start to spiral out of control.
Patricia Clarkson (Sharp Objects) appears as Jonathan's controlling doctor while Matt Bomer (White Collar) also co-stars.
The movie made its world premiere at the Tribeca Film Festival earlier this year, where it got mixed reviews. And after trailer, I can see why — the film kind of plays like a B-movie thriller. Poor Elgort has had a string of misses after Baby Driver, which I was surprised to enjoy him in, and sadly Jonathan may be another misfire.
Here's the official synopsis for Jonathan:
The film tells the story of Jonathan, a successful architect who lives a normal life dictated by a strict routine. Jonathan's twin brother John, on the other hand, sleeps all day and spends the night secretly socializing. When Jonathan discovers that John has a secret girlfriend, Elena, he forces John to end things and then starts a new relationship Elena out of curiosity and jealousy. John ultimately catches wind of the affair, which puts his relationship with his brother at serious risk and forces Jonathan to seek the help of Dr. Mina Nariman, the brothers' controlling doctor.
Jonathan hits theaters and on-demand on November 16, 2018.