'Searching' Easter Egg Predicts The End Of The Movie During The Movie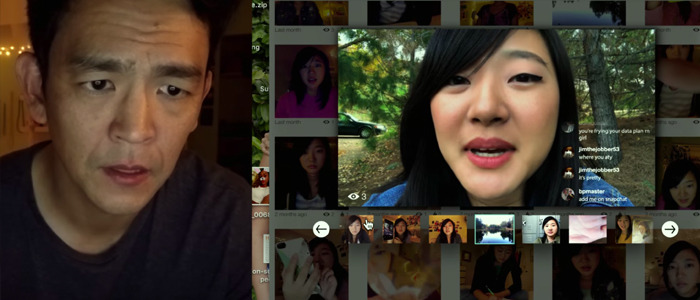 Searching, this year's innovative and electrifying thriller that takes place entirely on computer screens, is coming to home video next month. It's full of twists and hinges on a big mystery, and one of the bonus features reveals that the film's ending is spelled out in exact detail for all to see in John Cho's character's e-mail inbox – assuming, of course, that you're quick enough to read it. Take a look at the Searching easter egg that spoils its own ending.
Warning: spoilers for Searching ahead.
The filmmakers behind suspenseful thrillers don't typically reveal the ending to their own film inside the film itself, but that's exactly what director Aneesh Chaganty did here. In a bonus feature called "The Theory Behind the Easter Eggs," Inverse reveals that Changanty and his team slipped a huge spoiler in where no one was looking. Here's a screenshot from the video. (Inverse's player won't allow video embeds, so you can head over there if you want to watch it in full.)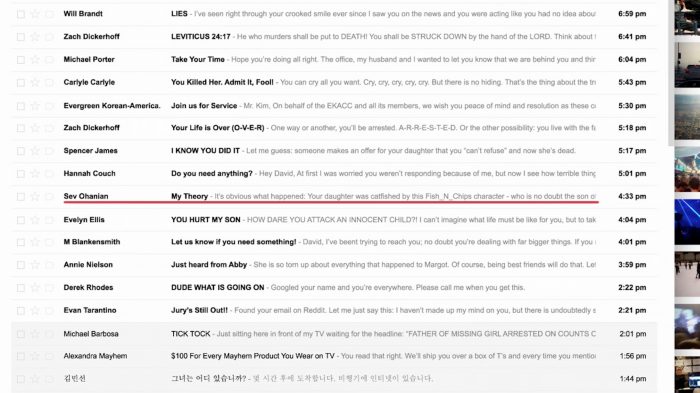 That's a message in David Kim's inbox from Sev Ohanian, the co-writer and producer of Searching, laying out the entire ending. "It's obvious what happened," the e-mail says, "Your daughter was catfished by this Fish_N-Chips character – who is no doubt the son of..." If Kim had opened the full e-mail, that sentence would have finished with the words "Detective Vick," the character played by Debra Messing. Sneaky!
If you've read anything about Searching on /Film, you likely already know that it's one of my favorite films of the year. You can read my full review from Sundance, listen to my interview with Aneesh Chaganty, and watch this behind-the-scenes video for a look at the insane amount of work that went into the creation of each shot of this movie.
Changanty and Ohanian are currently prepping their next film: a more conventionally-shot thriller called Run, which recently announced Sarah Paulson as one of its stars. Production begins later this month.
After David Kim (John Cho)'s 16-year-old daughter goes missing, a local investigation is opened and a detective is assigned to the case. But 37 hours later and without a single lead, David decides to search the one place no one has looked yet, where all secrets are kept today: his daughter's laptop. In a hyper-modern thriller told via the technology devices we use every day to communicate, David must trace his daughter's digital footprints before she disappears forever.
Searching hits Blu-ray and DVD on November 27, 2018.