Daily Podcast: Best Soundtracks For Bad Movies, How To Become A Film Writer, Wu-Tang, Black Panther 2, Aladdin, & Daredevil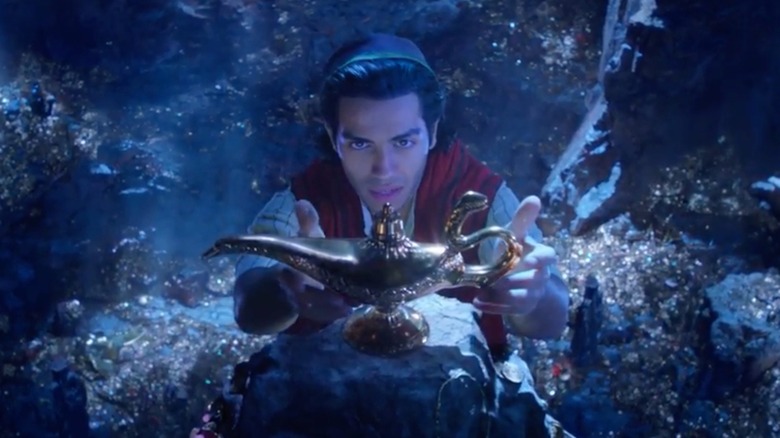 On the October 12 2018 episode of /Film Daily, /Film editor-in-chief Peter Sciretta is joined by /Film Senior Writer Ben Pearson and writer Chris Evangelista to talk about the latest film and tv news, including Wu-Tang, Black Panther 2, Aladdin, Daredevil Season 3 and in the mail bag we'll answer some listener e-mail.
You can subscribe to /Film Daily on iTunes, Google Play, Overcast, Spotify and all the popular podcast apps (here is the RSS URL if you need it).
In The News:
In The Mail Bag:
Yesterday on the podcast, Peter wondered out loud if there had been an actor who had been in both DC and MCU movies simultaneously. A couple people responded with examples:
Kyle says "Hey Peter, was just listening to the podcast from yesterday and got to the point where you and Ben talked about Marvel actor switching to DC.

It's small, but Laurence Fishburne is Perry White in DC and Bill Foster in Marvel

."
Damon says "Re: your conversation on about actors active in both MCU and DCU, although

Djimon Hounsou's Korath was killed in GOTG, he is returning in Captain Marvel.  He is also in Aquaman.

"
David C from California writes in, "Is there a movie song (or soundtrack) that you like, that comes from a movie that you don't?  Hold me, thrill me, kiss me, kill me by U2 came on the radio the other day. I bought that CD back in the day, and I loved that song — and today I can't even recall if it came from the Clooney or the Kilmer Batman movie.    Being an old school hair metal fan, I really like the Last Action Hero soundtrack, but don't care for that movie. Thank you for your show."
Peter: The 1998 Godzilla soundtrack
Ben: Space Jam soundtrack, Scotty Doesn't Know (Eurotrip), That Thing You Do!
More people have written in with Zombie children movie suggestions:
Tyler K says "I don't think this movie was mentioned but it was the first that came to my mind. It's called Cooties and stars Elijah Wood. I haven't seen it but I remember the trailer and thought that it was an interesting idea."
Gokul from New Zealand writes in "I've been following the antics of David Chen and the /FilmCast for years, and now that /FilmDaily is around, it has quickly become my favourite podcast to listen to during my morning commute.  Carrying on from your comment from last week about zombie children,

I would like to mention one of Peter Jackson's early movies, Brain Dead, which features an awesome zombie baby.   Without getting into spoilers, there's a scene with the baby and a blender that is just spectacular and even a little bit cathartic (no I'm not sadistic or twisted, it makes sense if you watch the movie)  I hope you check the movie out.  Love your guys work, and if any of the /Film crew ever come back to New Zealand (sorry I missed your visit here HT), I would love to have a drink or two with you and talk movies"
Anthony C writes in "Hey Peter! I am long time reader of /Film and listener of /Film Daily.

I wanted to get your opinion on if you need a college degree or cinema studies background to work in the world of film journalism. Also, is there a "beginners guide" on how to make an entrance into the film writing community?

Right now I am in college and have been in college for what seems like forever. I have switched majors several times and I am starting to feel discouraged when it comes to finishing my degree. I am going for a degree in Environmental Health and Safety at the moment so that I can eventually make ends meet and be able to do something that brings me some kind of joy, but

ultimately the degree I'm going for doesn't bring as much joy as watching films and reading/listening to people talk about films. I know it will be my decision in the end that will lead me to what I want to do in life, but I am just looking for a different look at this predicament.

Thank you /Film team for all the amazing content you produce."
All the other stuff you need to know:
You can find more about all the stories we mentioned on today's show at slashfilm.com, and linked inside the show notes.
/Film Daily is published every weekday, bringing you the most exciting news from the world of movies and television as well as deeper dives into the great features from slashfilm.com.
Send your feedback, questions, comments and concerns to us at

peter@slashfilm.com

. Please leave your name and general geographic location in case we mention the e-mail on the air.
Please rate and review the podcast on iTunes, tell your friends and spread the word!
Thanks to Sam Hume for our logo.