Rebecca Romijn To Star In Fangoria Film 'Satanic Panic'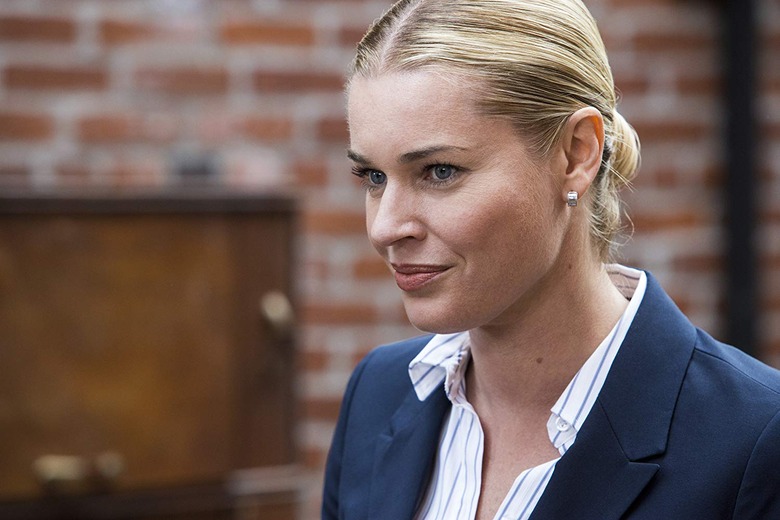 Just a few months after Fangoria rose from the dead, the beloved horror magazine got straight to work producing new movies. A brand new horror-comedy called Satanic Panic was announced just two months ago but has already assembled a cast that will be headlined by X-Men's Rebecca Romijn. The Satanic Panic cast also includes newcomer Hayley Griffith as well as Ruby Modine, Jerry O'Connell, and more.
Deadline reports that Rebecca Romijn will headline the horror-comedy Satanic Panic, directed by Chelsea Stardust.
Romijn will play the leader of a group of high society Satanists seeking a virgin sacrifice in a film described by Deadline as an "after-hours-esque horror comedy with a healthy dash of imaginative gore." Griffith stars as the plucky protagonist in the film written by Grady Hendrix, based on a story by Hendrix and his Mohawk co-writer Ted Geoghegan. Here's the plot per Deadline:
[Satanic Panic] follows a pizza delivery girl (Griffith) at the end of her financial rope who has to fight for her life — and her tips — when her last order of the night turns out to be high society Satanists (led by Romijn) in need of a virgin sacrifice.
The cast is rounded out by Ruby Modine (Happy Death Day), Arden Myrin (Insatiable), Jerry O'Connell (Carter), AJ Bowen (The Sacrament), Jordan Ladd (Cabin Fever), Jeff Daniel Phillips (The Lords Of Salem), Hannah Stocking (Boo 2! A Madea Halloween), Michael Polish (Some Kind Of Hate), Whitney Moore (House Of Demons), and Skeeta Jenkins (Puppet Master: The Littlest Reich).
Romijn is probably best known for her role as Mystique in X-Men, but has proven to be a gifted genre actress, with an underrated physicality that hasn't been tapped into since, well, X-Men. With other veteran and rising horror stars on the cast, this film could prove to have a murderer's row of onscreen talent.
Production for Satanic Panic set to being next week in Dallas, Texas. Dallas Sonnier will produce alongside Amanda Presmyk and Adam Goldworm (Masters of Horror), while Fangoria's Phil Nobile Jr. and Adam Donaghey are set to executive produce.
Fangoria is making the best of its new license on life. In addition to putting out the beloved horror magazine that it's best known for, it's diving back into the movie business. There's a hell of a future to look forward to with Fangoria.