'Star Wars' Augmented Reality Experience 'Project Porg' Will Let You Train Porgs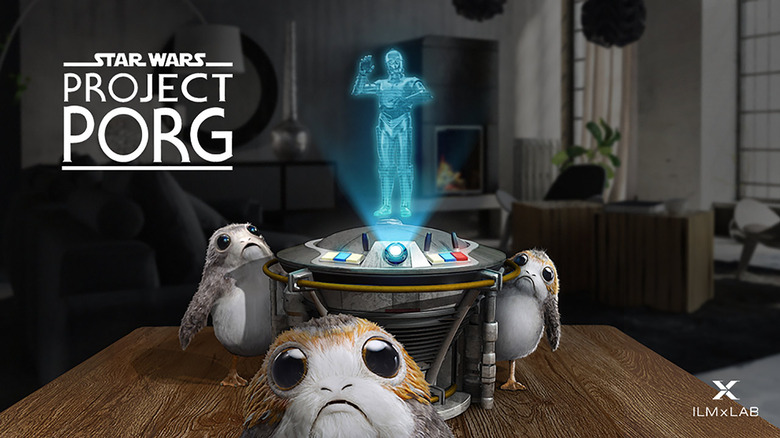 Are you ready to train some porgs? I know I am. LucasFilm's ILMxLAB, which uses VR, AR and other emerging technologies, has just announced a new project: Star Wars: Project Porg, which enables users to befriend the cutest characters in all of Star Wars history (sorry, Sy Snootles; you'll always be#2). More on Project Porg below!
Every Porg Scene in The Last Jedi
I'm well-aware there are people out there who don't like porgs, the cuddly puffin-like creatures first introduced in Star Wars: The Last Jedi. I call these porg-hating people "heartless monsters." For the rest of us, though, porgs are the bee's knees. They're cute, they're funny, they scream their heads off for no reason. And now they have their own augmented reality experience, which is kind of like VR, but fancier. Star Wars: Project Porg is a "mixed-reality immersive experiment in which you'll need to gain the trust and affection of your porgs. How? You'll feed them treats, play with them, and you'll also teach them how to maneuver real-world environments with care instructions from C-3PO himself." Actor Anthony Daniels will return to voice C-3P0 yet again.
ILMxLAB describes themselves as a team that "strives to transition from storytelling to storyliving by using VR, AR and other emerging technologies to bring worlds to life and establish deep and intimate connections to characters. We develop and publish premium, story-based immersive entertainment experiences for the home, theatre and public venues." They're the same folks behind Vader Immortal.
Vader Immortal
More details on Project Porg are forthcoming, and I'm sure a trailer will be available at some point. Variety has a brief description of what they saw of Project Porg at a preview event:
ILMxLAB demonstrated the experience at a press preview event Tuesday, where the lab had added some extra AR easter eggs for L.E.A.P attendees. The living room setup used to demonstrate the app featured a handful of physical objects that could be controlled with the Magic Leap One headset, thanks to AR overlays that explained their functionality. This allowed attendees to turn on a Sonos speaker, change the program on a TV set and turn on a fan, and then see the porgs react to each of these devices — a nap in front of the TV included.
Napping porgs? This experience has everything!
Project Porg will be available in December for the AR headset the Magic Leap One.