'Suicide Squad 2': James Gunn Is Directing And Writing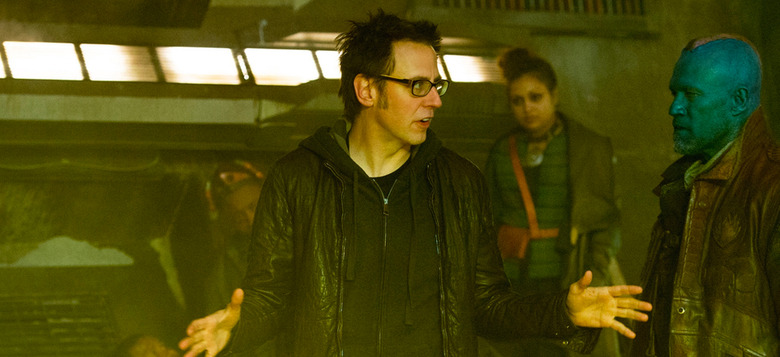 UPDATE: The Hollywood Reporter confirms James Gunn will now be directing Suicide Squad 2, which is going by the title The Suicide Squad. Our original story from October 9, 2018, naming him as writer of the sequel, follows below.
James Gunn's time with Marvel is over, but his work with DC might just be getting started. The Guardians of the Galaxy filmmaker is in talks to write and possibly direct Suicide Squad 2. The Accountant director Gavin O'Connor had previously been announced as the writer-director on the sequel, but things have changed. More on Gunn taking over as Suicide Squad 2 director below.
When Suicide Squad arrived, many were hoping it would be DC and Warner Bros.' answer to Guardians of the Galaxy – a quirky, funny team-based movie focused on somewhat obscure characters. That didn't exactly pan out. Now, Warner Bros. might finally get the Guardians-style film they were hoping for with Suicide Squad 2. The Wrap reports that James Gunn, the man behind Guardians of the Galaxy and Guardians of the Galaxy Vol. 2, is in talks to write, and possibly direct, the follow-up to the 2016 anti-superhero film.
Suicide Squad 2 has changed hands several times in the last few years. Suicide Squad director David Ayer originally expressed interest in helming an R-rated follow-up to the film – something Warner Bros. apparently didn't want to take him up on. In the months to come, the studio put together a shortlist of possible filmmakers, including Mel Gibson. By March of 2017, The Shallows director Jaume Collet-Serra was Warners' top-choice to direct. Collet-Serra didn't take the gig, however. Come summer 2017, The Accountant director Gavin O'Connor was officially signed to write and direct the follow-up film.
In early 2018, though, Suicide Squad 2 was put on hold so O'Connor could explore other projects. Now, his time with the film might be at an end, as Gunn has become Warners' choice to write and potentially direct the film. This would be a huge get for DC, who have struggled to forge their own identity in comparison to the MCU. Even if Gunn only ends up writing Suicide Squad 2 as opposed to both writing and directing, it would be a plus, and would all but certainly involve a drastic improvement over the first film. Gunn played a major part in the Marvel Cinematic Universe, and was set to helm Guardians of the Galaxy Vol. 3. However, the director was fired over the summer when old, highly offensive tweets were brought to light. Gunn apologized for the tweets, but it was too late – Disney cut ties with the director.
It's not immediately clear where this sequel fits in the overarching DCEU – or whatever it's called now. Margot Robbie's Harley Quinn will next be featured in Birds of Prey, which hints that Suicide Squad 2 is still a long ways off. THR's Borys Kit goes on to add that the film might not even be a proper sequel, but a kind of reboot:
Being told that Gunn's SUICIDE SQUAD will not be a sequel, he will have a whole new take on it. But whether that means a total recasting or not is unclear.

— Borys Kit (@Borys_Kit) October 9, 2018
This would certainly make sense – no one was exactly thrilled with Suicide Squad, even though it wasn't a complete flop. But this also doesn't do much to dispel the feeling that Warners has no idea what to do with their DC-related films.
Suicide Squad starred Will Smith, Jared Leto, Margot Robbie, Joel Kinnaman, Viola Davis, Jai Courtney, Jay Hernandez, Adewale Akinnuoye-Agbaje, Ike Barinholtz, Scott Eastwood, and Cara Delevingne, and followed a team of super villains assembled to save the world. The film was utterly trashed by critics – and rightly so, it was terrible. But it also made money – $750 million worldwide on a $175 million budget – which all but guaranteed a sequel.