'Star Trek Discovery' Reveals First Look At Rebecca Romijn As Number One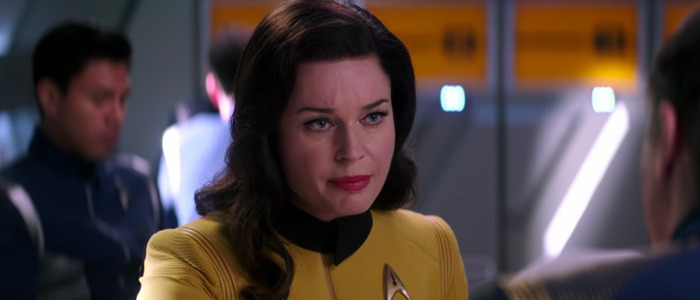 In the Star Trek universe, Rebecca Romijn (X-Men, Femme Fatale) is the number two person to play Number One.
The actress has taken to Instagram to share our first-look photo at her take on the character in the upcoming season of Star Trek Discovery, and you can see how she steps into Majel Barrett-Roddenberry's shoes in the photo below, as well as in the newly-released trailer for Discovery's second season.
First Look at Number One
View this post on Instagram
Going for the gold! What an honor. First look at Number One on #StarTrekDiscovery
A post shared by Rebecca Romijn (@rebeccaromijn) on
In the original Star Trek pilot, creator Gene Roddenberry cast his then-real-life-lover Majel Barrett in a key role of Number One, the second-in-command to USS Enterprise Captain Christopher Pike. This was a controversial casting choice, since Barrett wasn't a known actress at the time. The network was not thrilled with Roddenberry's decision (and that's putting it nicely), and when they gave him a second chance to create another pilot after passing on the first one, he dropped the character of Number One altogether. (Though hardcore Trek fans will tell you she still showed up briefly in footage that was repurposed into a two-part episode called "The Menagerie.")
Now, years later, Number One is rising from oblivion in Star Trek Discovery. Romijn will play the second-in-command to Anson Mount's Captain Pike. You can see her in action in the Star Trek Discovery trailer that debuted this past weekend at New York Comic Con:
Star Trek Discovery premieres on CBS All-Access on January 17, 2019.