'Star Trek: Discovery' Season 2 Trailer: Meet Young, Bearded Spock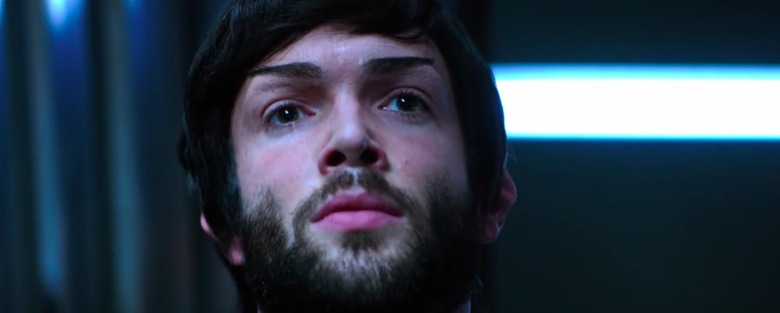 Hot off the heels of the CBS All Access show's New York Comic-Con panel, Star Trek: Discovery has released the trailer for its sophomore season. And things are looking pretty hairy for the crew of the USS Discovery. Literally.
The Star Trek: Discovery season 2 trailer gives us a glimpse at the new threats and new allies that the USS Discovery crew meets, including old-school Klingons and a young Spock (Ethan Peck), both sporting lots of hair.
Star Trek Discovery Season 2 Trailer
The action-packed trailer follows the crew of the USS Discovery as Captain Pike leaves the Enterprise to take command of the Discovery. With Pike in the lead, the Enterprise pursues a mystery involving a series of seven signals spread across the galaxy — signals that may be connected to a vision of a "red angel" that keep plaguing Spock and his adopted sister Michael Burnham (Sonequa Martin-Green). This is what brings us all to Spock — or rather, bearded Spock. Seeing Peck's bearded version of the famous character originated by Leonard Nimoy is almost as much a surprise as seeing Michelle Yeoh's evil Mirror Universe version of Captain Philippa Georgiou. Captain Georgiou has now found a home in Starfleet's secret intelligence agency, Section 31, hiding her Mirror Universe origins. "Not everyone knows I am from the mirror universe," Yeoh said at the NYCC panel, according to Nerdist. "So sometimes it is very nice and kind... and then the Section 31 version is manipulative, sexy because of all the leather."
We also get to see more of the Enterprise, including Rebecca Romijn as Number One, as well as Spock and Burnham's mother, Amanda Grayson (Mia Kirshner). And the classic Klingons also make an appearance, sporting their more traditional, hairy looks. This is just a hairy trailer in general.
Star Trek: Discovery returns to CBS All Access on January 17, 2019.
Created by Bryan Fuller and Alex Kurtzman for CBS All Access, the story of "Star Trek: Discovery" begins roughly a decade before Captain Kirk's five-year mission — as portrayed in the original "Star Trek" from the 1960s — and a century before the events of "Star Trek: Enterprise." The series follo

ws the crew of the USS Discovery as they encounter new worlds and civilizations, delving into familiar themes and expanding upon an incident that has been talked about within the franchise's universe, but never fully explored.