'Shoplifters' Trailer: Hirokazu Kore-Eda's Palme d'Or Winner Is Ready To Sweep The Oscars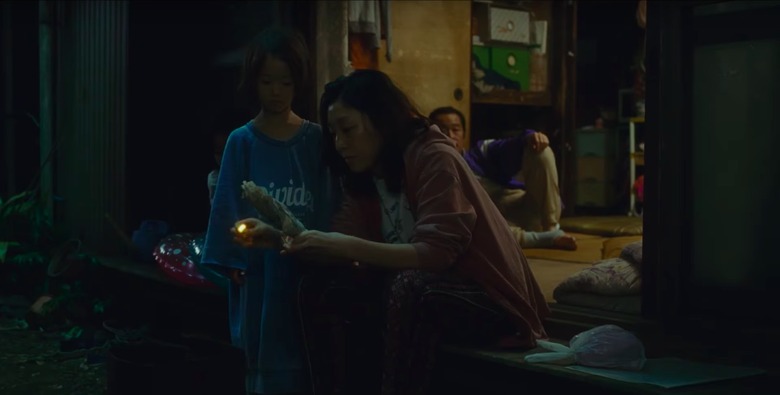 Japanese auteur Hirokazu Kore-eda is a favorite at the film festival circuit — his tender, delicate odes to humanities have won twice at the Cannes Film Festival and earned accolades across the world. Now Shoplifters, his latest Palme d'Or winner is heading for a Stateside release, and possibly, the best Foreign Language category at the Oscars. See the first Shoplifters trailer below.
Shoplifters Trailer
Shoplifters is a return to Kore-eda's family-focused dramas after a brief sojourn to the gritty crime genre with The Third Murder. The film follows a poor Japanese family who barely survives through petty thievery. One day, on a shoplifting trip with his son, Osamu (Kore-eda regular Lily Franky) discovers a young girl out in the freezing cold. He and his family warmly take her in, but find themselves at the center of an investigation when the girl is revealed to be at the center of a prolific missing child case.
Shoplifters, which also stars Kore-eda regular Kirin Kiki in her last film role, debuted at Cannes in May, where it was met with a rapturous critical reception (it now holds 100% on Rotten Tomatoes) and scored the French festival's top award. But that was only the beginning of a triumphant season for the film. Shoplifters went on to become Kore-eda's biggest box office hit in Japan, raking in around $40 million. It was a hit too in China, where Shoplifters became the country's biggest Japanese live-action film, earning $14 million at the box office. Japan has selected Shoplifters as the country's official contender for year's best foreign-language film race.
Here is the official synopsis for Shoplifters:
After one of their shoplifting sessions, Osamu and his son come across a little girl in the freezing cold. At first reluctant to shelter the girl, Osamu's wife agrees to take care of her after learning of the hardships she faces. Although the family is poor, barely making enough money to survive thr

ough petty crime, they seem to live happily together until an unforeseen incident reveals hidden secrets, testing the bonds that unite them.
Shoplifters opens in theaters on November 23, 2018.