'Pet Sematary' Trailer: Sometimes, Dead Is Better In This Adaptation Of Stephen King's Terrifying Novel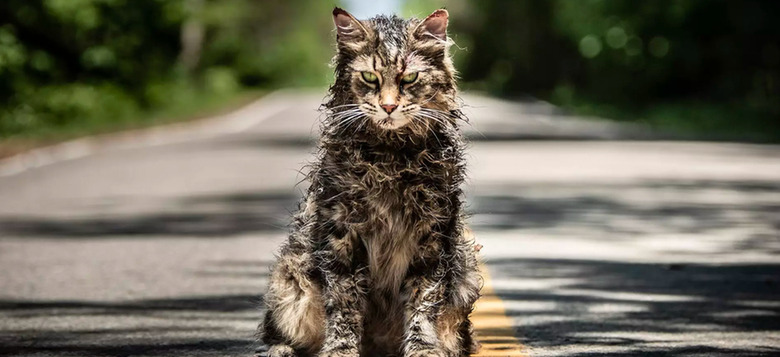 Want to see something scary? If so, you're in luck: the Pet Sematary trailer is here to give you the creeps. This new adaptation of Stephen King's scariest novel looks chilling, effectively taking the King story we know so well and adding new, mysterious elements to keep us slightly in the dark. Starry Eyes filmmakers Kevin Kölsch and Dennis Widmyer helm this new adaptation, which stars Jason Clarke, Amy Seimetz, and John Lithgow. Watch the Pet Sematary trailer below.
Pet Sematary Trailer
Now that's how you cut a trailer, folks. Anyone who has read Pet Sematary, or seen the 1989 film adaptation, will find familiar beats here: the Creed Family move into a new house in rural Maine – a house flanked by woods. Their elderly neighbor Jud introduces them to a "pet sematary" located deep in those woods. And then creepy stuff starts to happen. Yet even with all these familiar elements to latch onto, there's a wealth of new material here to raise an eyebrow or two, specifically: what is up with those creepy kids in creepy masks?
I had a chance to visit the Pet Sematary set over the summer, and everything I saw and heard just made me even more excited for this project (look for my set report right here on /Film!). I'm a big Stephen King fan, and Pet Sematary is my favorite of his novels. It's a dread-inducing journey into death, and beyond, and King himself says it's the one book of his that actually scares him the most.
Since the box office success of It, there's been a boom in Stephen King movie adaptations, and I'm all for it. There was a time when King-based movies were low-budget affairs featuring obscure B-movie actors. That's changing now, as the cast of Pet Sematary proves. Jason Clarke, Amy Seimetz, and John Lithgow may not be huge names (well, Lithgow might be), but they're all incredibly talented actors. The fact that they're involved with this material is promising. As is the fact that Kevin Kölsch and Dennis Widmyer, who directed the nightmarish Starry Eyes, are the filmmakers behind this adaptation.
And now, because I'm an obsessive nerd who has watched this trailer at least six times already, allow me to take you through it with a mini-breakdown.
As the trailer kicks off, the Creeds – father Louis, mother Rachel, children Ellie and Gage, and family cat Church – arrive at their new home in Ludlow, Maine. It's a peaceful beginning – the family is fresh from Boston (which is different from the book, where the Creeds hail from Chicago), and not used to all these trees. The idyllic country scene is quickly shattered when a tanker truck roars by like a bat out of hell. Almost immediately, an ominous tone sets in. A slow, steady drum beat begins. And we hear the voice of the Creed's new neighbor, Jud Crandall. "There was a myth," he grumbles. "Kids used to dare each other to go into the woods at night...they knew the power of that place." Through this all, there are shots of those woods – trees swaying, light cutting through leaves, and the ever-present sound of loons. Loons are frequently mentioned in King's novel – anytime a spooky sound is heard out in those woods, Jud Crandall tries to shrug it off by saying it's simply the sound of loons.We finally learn the source of that drum beat: a funeral parade of children, each wearing an extremely creepy animal mask, is taking what appears to be a dead dog in a wagon through a path in the woods. Anyone who has read the book can tell you this is something new. There is a mention of a funeral parade of children happening many years ago in the book, but it's recounted casually, and meant to be somewhat humorous. The funeral parade on display here, however, is 100% spooky. "Those woods...belong to something else," Jud tells Louis, and the intensity of the trailer begins to pick up. Quick, jarring shots accompanied by unsettling sounds. Dread is seeping in. And we catch a sight of Jud, standing alone in the "pet sematary", with the pile of branches and trees known as the deadfall looming large. What's waiting beyond all of that?Here, just in case you still haven't figured out what this is a trailer for, we get a shot of Church the cat, standing in the road. And then a cut to black. In that darkness comes the sound of digging, accompanied by the words "Based on Stephen King's Terrifying Novel.""The ground...is bad," Jud says, and that's when all hell breaks loose: a truck roars by, a car window is streaked with blood, shot after shot is slowly zooming in, approaching characters, darkness, and more. Louis wakes up to find his feet filthy with dirt. Characters shriek, look stunned, and the cat hisses, its fur a mess."It may just be a crazy folk tale," says Jud as we're treated to more unnerving, terrifying imagery: panicked eyes; things moving in the shadows; the flash of a scalpel; a spiral carved into a tree. And through it all, that steady, unsettling drum beat is heard, as Jud continues: "But there is something up in those woods...something that brings things back."As things draw to a close, one of the most famous lines from King's novel and the 1989 adaptation is head: "Sometimes...dead is better."The last image we see is Ellie Creed, wandering alone through the burial ground as the camera closes in on that crude, handmade sign: PET SEMATARY.
If I wasn't 100% sold on this movie before this trailer, the footage here would certainly do the trick. This looks great, and I wish it were coming out soon. Alas, we'll have to wait until April 5, 2019 until Pet Sematary arrives in theaters.
Based on the seminal horror novel by Stephen King, Pet Sematary follows Dr. Louis Creed (Jason Clarke), who, after relocating with his wife Rachel (Amy Seimetz) and their two young children from Boston to rural Maine, discovers a mysterious burial ground hidden deep in the woods near the family's new home. When tragedy strikes, Louis turns to his unusual neighbor, Jud Crandall (John Lithgow), setting off a perilous chain reaction that unleashes an unfathomable evil with horrific consequences.