'The Conjuring 3' Won't Be Directed By James Wan, Michael Chaves Will Helm Instead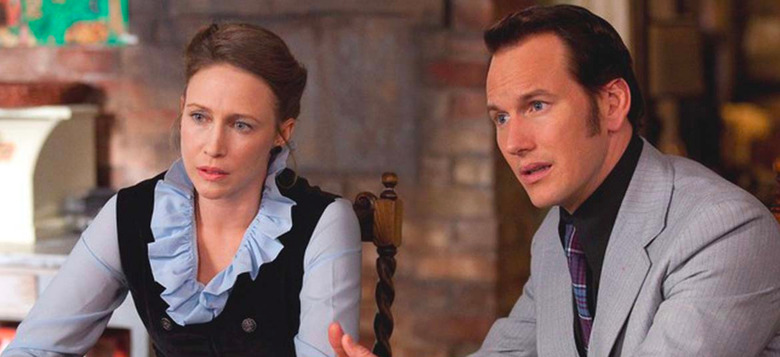 James Wan is handing over directing duties on the main Conjuring films to Michael Chaves, director of the upcoming horror film The Curse of La Llorona. Wan, who has Aquaman hitting theaters at the end of the year, will continue to serve as a producer on the Conjuring movies, while Chaves becomes the official The Conjuring 3 director.
I was really hoping James Wan would return to horror, and soon – possibly with The Conjuring 3. But that's not happening. Deadline is reporting Wan won't helm The Conjuring 3, making this the first main Conjuring movie without him in the director's chair. Instead, Michael Chaves will take over. Chaves is an up and coming horror filmmaker, having directed a horror short called The Maiden, and the upcoming feature The Curse of La Llorona, due out in April 2019. Our own Jacob Hall got to watch some Curse of La Llorona footage at Comic-Con, and enjoyed what he saw:
"While the footage on display wasn't as slick as The Conjuring movies, it was certainly scary and exciting enough. We watched three clips and each of them showcased what this brand of New Line horror movie does well: loud jump scares, impressive suspense gags, and some creepy monster design. The latter definitely stood out – La Llorona herself is a ghostly figure clad in white, her pale face illuminated by black tears. When she suddenly lurches into frame (which she did quite often in the footage we saw), her physical appearance definitely contributes to the jolt."
That definitely sounds promising, and I'm all for new emerging horror filmmakers. But I can't help but be disappointed Wan isn't coming back. Wan directed the first Conjuring in 2013, and its sequel, The Conjuring 2, in 2016. The films have launched an entire universe of horror spin-offs, on which Wan serves as a producer. As for when Wan might return to horror directing himself, he told /Film Editor-In-Chief Peter Sciretta: "I will get back to it at some point. I mean, even Sam Raimi did right? After Spider-Man he went back, and did [Drag Me To Hell]. That was so much fun. So, yeah, but I gotta find the right project, because I think when I go back to horror, that'll be quite a spotlight on it, so I just wanna make sure that it's something I really dig."
Plot details of The Conjuring 3 aren't available yet, but it will no doubt involve the further adventures of paranormal investigators Ed and Lorraine Warren, played by Patrick Wilson and Vera Farmiga. The Warrens are based on a real husband-and-wife team of ghost hunters, and there are several prominent cases a new Conjuring film can draw on. David Leslie Johnson, who wrote The Conjuring 2, is penning the script.
You can watch Michael Chaves' creepy short The Maiden below.