'The Upside' Trailer: Kevin Hart And Bryan Cranston Star In A Remake Of 'The Intouchables'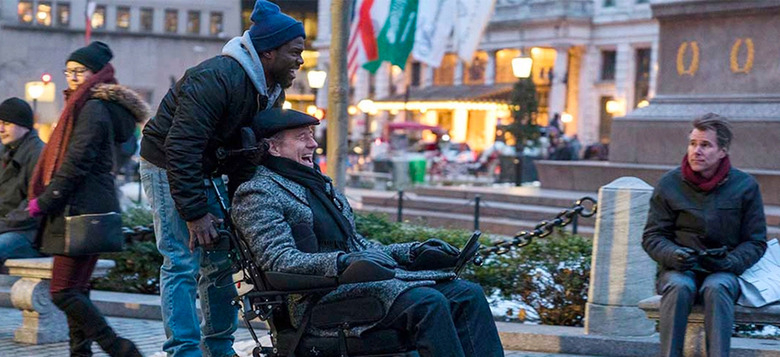 The 2011 French film The Intouchables gets an American remake with The Upside. Kevin Hart takes on a semi-dramatic role as an unemployed man who lands a job caring for a wealthy paraplegic, played by Bryan Cranston. And hey, Nicole Kidman is there too! The Upside has actually been finished for a while, having debuted at the 2017 Toronto International Film Festival. It will finally find its way to theaters in 2019. Watch The Upside trailer below.
The Upside Trailer 
While there's still an edge of comedy in this The Upside trailer, it looks like a bit of a departure for Kevin Hart. He's not as frantic and manic as he usually appears in some films, and that might be interesting to see. Throwing great actors like Bryan Cranston and Nicole Kidman into the mix certainly doesn't hurt, either. All in all, The Upside looks like a near-identical remake of The Intouchables, with an American bent. Here's the Intouchables trailer for comparison.
The Intouchables 
As mentioned above, The Upside's release has had a bit of delay. The film premiered at the 2017 Toronto International Film Festival, and was supposed to hit theaters in March of 2018. But the movie was originally a Weinstein Company film, and the Harvey Weinstein scandal resulted in the film being pulled from release. This isn't the only film that suffered this fate. The Current War, another Weinstein Company film that played at TIFF in 2017, also had its release nixed. In the time since,  STX Entertainment has partnered with the re-named Weinstein Company, Lantern Entertainment, to release The Upside in 2019.
The reviews out of TIFF weren't overly kind: the film sits at 55% on Rotten Tomatoes. IndieWire's review says: "No surprises here, folks; just half-hearted punchlines and unadventurous sentimentality readymade for marketplace consumption."   adds: "So little has been done to update or refresh The Intouchables for American culture or a new audience that The Upside has no integrity as a separate piece of work." That said, THR seemed to like the film, saying: "There's something so disarming about [Cranston] and [Hart]'s relationship that you're gradually sucked into it without asking too many questions.
The Upside hails from Neil Burger, director of Limitless and Divergent. At one point, Paul Feig was set to direct, but that never came to pass. In addition to Cranston, Hart and Kidman, the film also stars Julianna Margulies, Aja Naomi King, and Tate Donovan.The Upside hits theaters January 11, 2019.