'The Chilling Adventures Of Sabrina' Trailer: Rise, Witches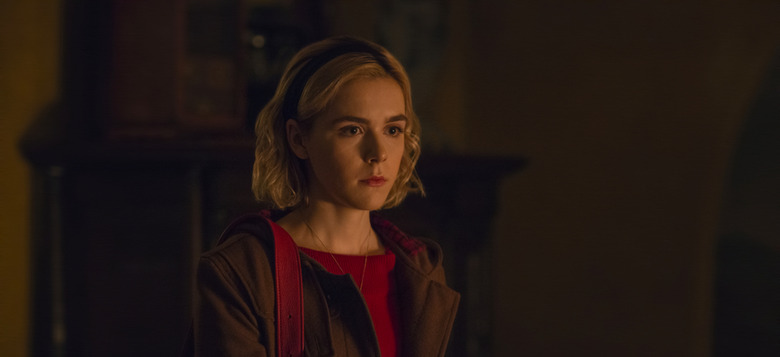 The Chilling Adventures of Sabrina is far removed from the Sabrina the Teenage Witch sitcom. Inspired by the comic series of the same name, the new Netflix show from the folks behind Riverdale takes a dark, horror-movie inspired approach to the character. Kiernan Shipka is Sabrina Spellman, a half-human, half-witch torn between two worlds, and the target of some extremely dark forces. Watch the new Chilling Adventures of Sabrina trailer below.
Chilling Adventures of Sabrina Trailer 
As you can tell from this trailer, Chilling Adventures of Sabrina won't have a wise-cracking cat or audience laughter. While there is humor in Netflix's new take on the classic character, the series is going for a horror-movie tone, complete with bursts of violence, goat-headed demons and references to classic horror films. The series hails from Roberto Aguirre-Sacasa, who also created the CW's Riverdale, which is another dark(ish) take on characters from Archie comics. At one point, Sabrina was going to be a Riverdale spin-off for the CW, but that changed when Netflix stepped in.
Man Men's Kiernan Shipka stars as Sabrina, with a cast that includes Jaz Sinclair, Michelle Gomez, Chance Perdomo, Lucy Davis, Miranda Otto, Richard Coyle, Ross Lynch, and Tati Gabrielle.
In the show, Sabrina is about to turn 16. When she does, she has to make a choice – leave all her human friends behind and embrace her witch lifestyle, or revolt against her family's wishes and stay rooted in the mortal world.
I've seen a good portion of The Chilling Adventures of Sabrina (look for my review soon!), and while I'm not able to share my full thoughts at the moment, I can tell you that if you're a fan of creepy stuff, you're going to find a lot to like here. The show fully embraces its horror roots, and isn't afraid to go to some considerably dark places. But there's room for fun as well.
The Chilling Adventures of Sabrina arrives on Netflix October 26, 2018, making it the prefect title to binge as Halloween approaches.
Chilling Adventures of Sabrina imagines the origin and adventures of Sabrinathe Teenage Witch as a dark coming-of-age story that traffics in horror, the occult and, of course, witchcraft. Tonally in the vein of Rosemary's Baby and The Exorcist, this adaptation finds Sabrina wrestling to reconcile her dual nature — half-witch, half-mortal — while standing against the evil forces that threaten her, her family and the daylight world humans inhabit.