George Carlin Biopic Will Be Scripted By 'Moneyball' Writer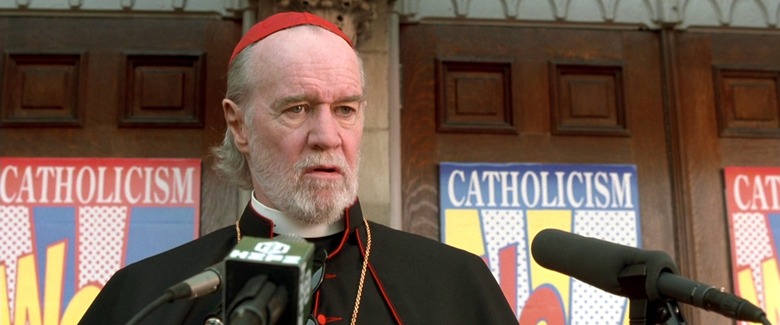 Today it was announced that The Jackal Group has acquired rights to produce the official George Carlin biopic and have attached screenwriter Stan Chervin to write and produce. Hit the jump to learn more about the George Carlin biopic.
Stan Chervin is an Ocar-nominated screenwriter credited with the story for Moneyball alongside Aaron Sorkin and Steven Zaillian, as well as the the little-seen-for-a-reason 2013 film Space Warriors. The Jackal Group's Gail Berman and Joel Earley will produce along with Jerry Hamza, executor of George Carlin estate and former agent Bruce Kaufman under his new banner Wood Hollow Pictures. The interesting thing here is that they are not sure if the George Carlin biopic will be a theatrical movie or a streaming project, which could mean limited series.
I was always a big fan of Carlin's iconic comedy. He pushed the edge of acceptability and changed the culture of comedy as we know it. I think I would be more excited about this project if the screenwriter attached were more known. Perhaps if it was Aaron Sorkin, who got the full screenwriting credit on Moneyball. I think Carlin's story could easily make for a rather generic biopic, but I'd almost rather see a more indepth limited series adaptation on Netflix or Amazon.
George Carlin Biopic Press Release
You can read the full press release below:
The Jackal Group to Produce Biopic of Iconic American Stand-Up Comedian, George Carlin
SANTA MONICA, CA – October 1, 2018 – The Jackal Group announced today that the company has acquired exclusive rights to produce the official biopic about George Carlin, the iconic American stand-up comedian, actor, author and social critic. Stan Chervin, Moneyball Oscar® and Golden Globe® nominated writer, is on board to pen the project. The film will be produced by The Jackal Group's Gail Berman, Chairman and CEO, and Joe Earley, President. Additionally producing are Stan Chervin; former agent Bruce Kaufman, under his new banner Wood Hollow Pictures; and Jerry Hamza, executor of the George Carlin Estate, Carlin's former manager, executive producer of Carlin's last 11 stand-up specials, and best friend of over 35 years.
In a joint statement, Berman and Earley said, "We are honored to tell the story of one of the most important and influential comedians of all time, and to do so alongside those who knew him best. In addition to shaping comedy and culture for decades, and entertaining generations of audiences, Carlin's battle to protect free speech continues to impact our daily lives and is as relevant as ever."
Hamza added, "I'm very excited to be involved with a film based on George's life. It was wasn't until after George died, I realized he was a hero. As a performer, George would never 'sell out,' and never comprise his beliefs – I learned so much from him. I think the public will be very happy to learn about George's life. He was truly the top of the ladder in his field."
Born in New York City in 1937, George Carlin is considered one of the greatest and arguably most influential stand-up comedians of all time. Through his career, which spanned over five decades, he consistently made us laugh with his razor sharp observations on language, politics, religion, and the world around us. Once told by Lenny Bruce "You are the next one," he blazed a groundbreaking comedic trail that led all the way to the U.S. Supreme Court with his "Seven Words You Can Never Say on Television."
To his amazing credit, Carlin was the "Hippy Dippy Weatherman," appeared on "The Tonight Show" more than 130 times, starred in an unprecedented 14 HBO Specials, hosted the first "Saturday Night Live" and penned three NY Times Best-Selling books. Of the 23 solo albums recorded by Mr. Carlin, 11 were Grammy nominated and he took home the coveted statue five times including a 2001 Grammy win for Best Spoken Comedy Album for his reading of his best seller Brain Droppings. In 2002, Carlin was awarded the "Freedom of Speech Award" by the First Amendment Center in cooperation with the U.S. Comedy Arts Festival in Aspen, Colorado.
In June of 2008, Carlin was the named 11th recipient of The Kennedy Center Mark Twain Prize for American Humor.
George Carlin passed away at age 71 on June 22, 2008 in Santa Monica, California.
Chervin is represented by ICM.
ABOUT THE JACKAL GROUP
The Jackal Group is a production studio creating scripted and unscripted television, feature films, digital content, and commercial theater. The Jackal Group is currently producing the unscripted series Tidying Up with Marie Kondo, starring the global organization icon, for Netflix and has a number of scripted television projects in development including adaptations of Ricardo Nuila's highly anticipated novel The Poor Unfortunates and Chloe Benjamin's New York Times bestselling novel The Immortalists; dramas 8 Count and Paradise Cove set up at FOX in addition to a robust slate of other projects across network, basic and premium cable, and streaming platforms. For Broadway, The Jackal Group is producing a contemporary musical based on the film, "The Rose." On the feature side, the company is developing I Almost Forgot About You, a feature adaptation of Terry McMillan's bestselling novel of the same name, starring Academy Award® winner Viola Davis, directed by Malcolm D. Lee and co-written by McMillan and Oscar winner Ron Bass, at Universal Pictures; and The Addams Family, MGM's animated feature based on the macabre clan, directed by Conrad Vernon and voiced by Golden Globe® winner Oscar Issac, Academy Award winner Charlize Theron, Chloë Grace Moretz, Finn Wolfhard, Nick Kroll, Bette Midler and Oscar winner Allison Janney, which will be released October 18, 2019. The company's digital brand focuses on original comedy shorts, both animated and live-action, which can be found at www.thisisaok.com.