Is A 'Fast And Furious' Female Spin-Off In Development?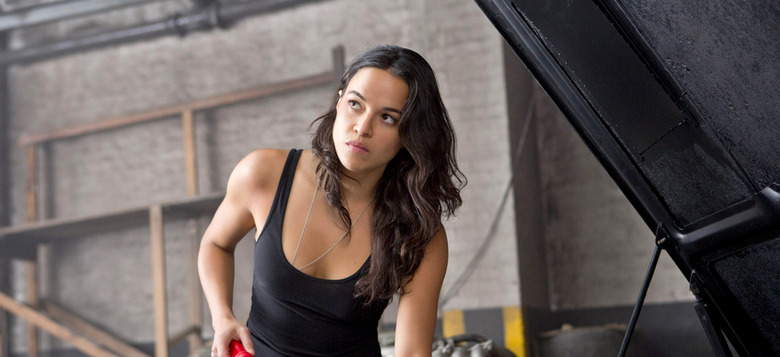 Vin Diesel may have just accidentally announced a Fast and Furious female spin-off, as he is sometimes prone to do. The actor and producer was engaging in some Instagram hype for his next project, Bloodshot, when he not-so-casually dropped a hint regarding the potential spin-off before quickly changing the subject. See for yourself below.
Oh Vin Diesel, you goof. Did you just give the game away regarding a Fast and Furious female spin-off? Let's watch, shall we?
Here's the pertinent excerpt from Diesel's rambling:
"My producing partner who started Fast & Furious with me, Neal Moritz, is also my producing partner here and his head is blown. He just can't contain his excitement about what the world will see when they see Bloodshot in 2020...I have a guest here from the Fast world, someone who surprised. Shout out to universal for wanting my female spin-off concept and my other spin-off concept..."
At this point, Diesel changed the subject and started talking about something completely different. So what's going on here? There's a very good chance this is legit, and Diesel accidentally let the cat out of the bag too soon. He's a producer on the Furious franchise, so he would certainly know if this were happening. There's also a big push for more female-driven blockbusters in Hollywood, so a Fast and Furious female spin-off would certainly make sense.
And who would be in this female-driven spin-off? Letty Ortiz (Michelle Rodriguez) makes the most sense, obviously. And I suppose they could bring back Jordana Brewster's Mia Toretto. Nathalie Emmanuel's Ramsey should be there. And hey, maybe Gal Gadot's Gisele Yashar can pop-up. Yes, I know her character is dead, but let's be honest: logic and reality doesn't apply to this franchise.
While the main Furious franchise is still rolling along, its days are numbered. Furious 9 is set to arrive in 2020, and Furious 10 will follow in 2021. The plan, as of now, is for Furious 10 to be the final film in the series. But Universal doesn't want to let this cash-cow go, so spin-offs are probably the best way to keep things going. There's already one spin-off in the works: Hobbs and Shaw, starring Dwayne Johnson and Jason Statham, is currently filming with director David Leitch at the helm, with plans for the film to hit theaters in August 2019. More spin-offs will likely follow, and some form of Fast and the Furious will outlive us all.