UPDATE: New 'Hellboy' Poster Reveals The Blood Queen, Monsters & Supporting Cast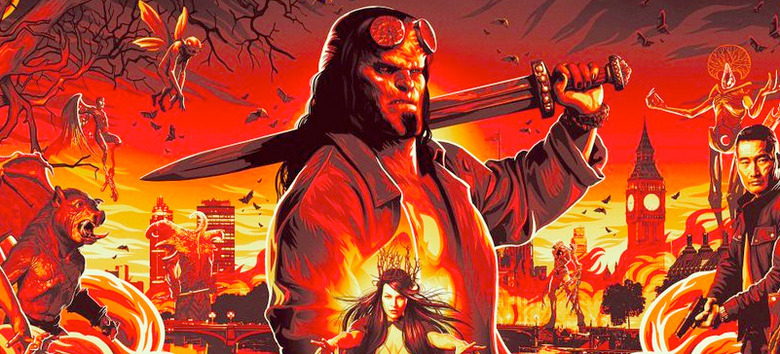 UPDATE: A new poster has come out of New York Comic-Con and we've added it to our story from October 1 with some details on what is revealed in the wide banner.
A fiery Hellboy poster is here, giving us yet another glimpse at David Harbour in-character as Big Red himself. The result? He looks like Hellboy! Which is to say, he looks a lot like Ron Perlman, who previously played the character. I guess when it comes to the look of this character, there's not a whole lot of room for interpretation. Check out the Hellboy poster below.
EW has the first official Hellboy poster, and it's about what you'd expect: brimming with fire, muscles and horns.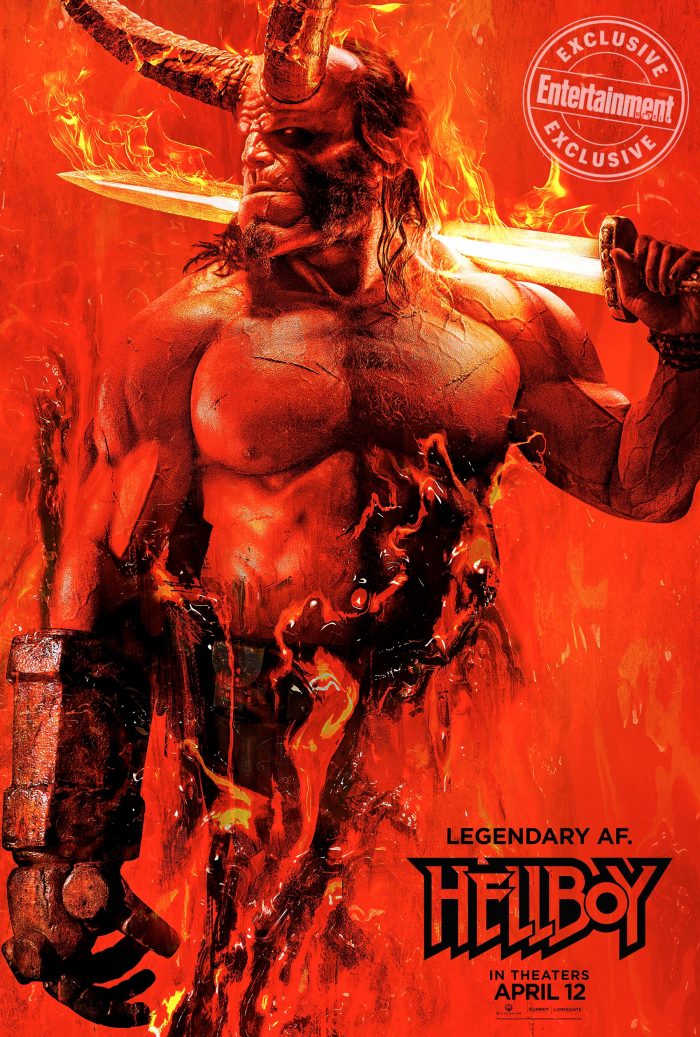 Hellboy famously files down his horns, but here those babies are on full display. Also on display: a goofy tagline – "Legendary AF." If they really wanted to go silly, they could've easily used "It's Lit" instead. The flames are right there, folks!
Hellboy reboots the character with Stranger Things' David Harbour in the role. The famous Harbour dad bod is gone, replaced by Hellboy's very impressive pectorals.
I'm a tad conflicted about this endeavor. On one hand, I enjoy Harbour and think he'll make a great Hellboy. On the other, it's a shame that Guillermo del Toro, who directed the first two Hellboy films, never had a chance to complete a trilogy with Ron Perlman. The Descent and Game of Thrones filmmaker Neil Marshall is helming this new take, and while Marshall is a good director, he's no del Toro. No one has seen any footage from this new film yet, though – the trailer will likely arrive any day now – so I can't judge this too harshly.
At the very least, it's clear Harbour took this part very seriously and put some deep thought into the approach. "He's a creature that was meant to bring about the end of the world, and he just sort of wants to be a good guy," the actor said previously. "He's got that complexity to him. He's also a monster who lives among human beings, so he's in a sense fighting for human beings against his fellow monsters, and yet the humans hate him because they fear him and they think he's weird looking and everything."
Harbour added:
"There's that question of, why am I fighting this battle? Just because of some sense of justice, or some sense of good? It's a really interesting question that sort of is at the core of him, that he struggles with...He has a heart that's really good and with a lot of this crusted-over stuff... It's very Shakespearean. It's demons and witches and stuff like that. But it has a similar core to a dude who's trapped in horrible circumstances who's just trying to be a good guy."
UPDATE: Here's the revealing new poster for Hellboy from New York Comic-Con: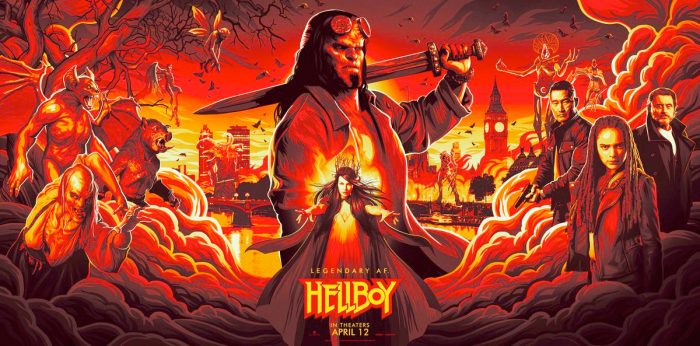 As you can see there are monsters galore, but the real villain in Hellboy is the Blood Queen (Milla Jovovich) in the center just below our hulking hero. In addition, on the far right is Professor Bloom, Hellboy's adopted father and an agent of the Bureau for Paranormal Research and Defense, played by Ian McShane.
There's also Daniel Dae Kim as Ben Daimio, a BPRD soldier who is cursed to transform into a monster, and Sasha Lane is Alice Monaghan, who was kidnapped by fairies as a young girl, rescued by Hellboy and now an ally of his.
More than likely we'll be seeing even more of these characters and creatures with a new trailer arriving sometime this weekend during the hustle and bustle of New York Comic-Con.
Hellboy, starring David Harbour, Ian McShane, Daniel Dae Kim, and Sasha Lane, opens on April 12, 2019.