Netflix Will Let You Choose Endings For Certain Shows, Including 'Black Mirror'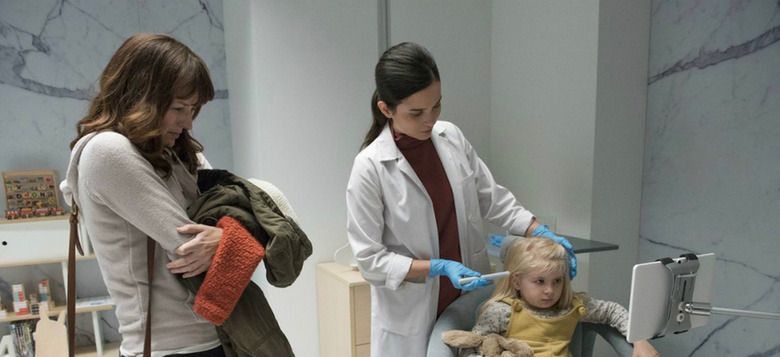 In an effort to create an interactive experience, Netflix is developing several Choose-Your-Own-Adventure-style programs that let viewers pick the endings they want to see for certain shows. The plan will kick-off with an upcoming episode of Black Mirror, which will enable viewers to choose which storyline they want to see.
Is this the future of interactive TV, or just an ill-advised gimmick? More on the Black Mirror choose your own adventure episode below.
Netflix has been developing interactive programming for a while now. Last year, word broke that the streaming giant was developing  choose-your-own-adventure-style shows that will bring a level of interactivity to viewing audiences. Netflix had originally been developing these shows for kids, but they then decided to target adults as well. Now, Bloomberg is reporting this choose-your-own-adventure storytelling is close to launch, and it's kicking-off with an upcoming episode of Netflix's sci-fi anthology series Black Mirror. Per Bloomberg:
Viewers will get to choose their own storylines in one episode of the upcoming season of "Black Mirror," the Emmy-winning science-fiction anthology series. The show is famous for exploring the social implications of technology, including an episode where humans jockey to receive higher ratings from their peers. The fifth season of the show is expected to be released in December.
The streaming service has already released interactive programming for children, like the series Puss in Book. They also plan to release a Minecraft series with the same choose-your-own-adventure elements. But the Black Mirror episode "will be more complex than the options in the kids' programming, though it remains to be seen just how complicated the show will be."
But is this a good idea? It's certainly attention-grabbing, and I could see the concept working on an extremely meta-level with Black Mirror. Ultimately, though this is a gimmick I don't think I can get behind. I'd rather the writer and director provide a definitive ending for what I'm watching instead of picking it myself. I could be in the minority here, though, and Netflix is certainly counting on this idea drawing in new customers. The hope is to "blend elements of video games with traditional television," and that could certainly appeal to many viewers.
The Black Mirror won't be 2018's first choose-your-own-adventure-style story geared towards adults. Early this year, HBO released the Steven Soderbergh series Mosaic, which launched with an app that added an interactive element to follow different story threads. Netflix's approach seems much different, and much more direct, though. And if the Black Mirror experiment works, this could be the start of a whole new world of programming for the ever-growing streaming service.