'Spider-Man: Far From Home' Set Images Provide First Look At Jake Gyllenhaal As Mysterio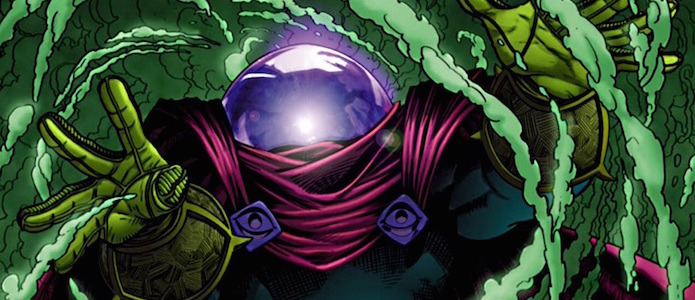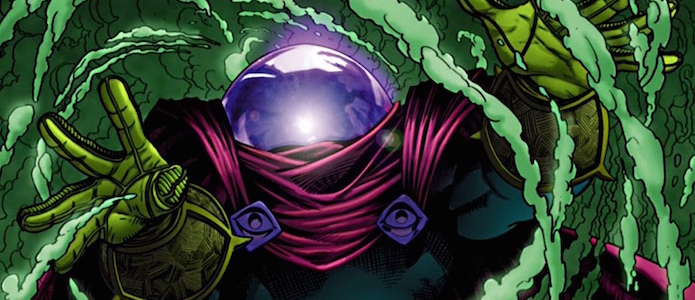 Psst, hey you – do you want to see Jake Gyllenhaal as Mysterio in Spider-Man: Far From Home? Well, you've come to the right place. Sort of. Below, you can peep some (admittedly blurry) Far From Home set images that reveal the actor in his full Mysterio regalia, minus the fishbowl head. The Spider-Man: Homecoming sequel is currently filming in the Czech Republic, offering our first real glimpse of Gyllenhaal in character.
Final scenes from Spider-Man: Far from Home in Liberec, now the end of filming pic.twitter.com/D9SNaHSBJk

— Marty Knap🇨🇿 (@CZMARTY7) September 30, 2018
Spider-Man: Far from Home: Mysterio in Liberec, Czech Republic pic.twitter.com/wpWaWe0oRE

— Marty Knap🇨🇿 (@CZMARTY7) September 30, 2018
Spider-Man: Far from Home: Mysterio in Liberec, Czech Republic pic.twitter.com/qfgJDQJQLs

— Marty Knap🇨🇿 (@CZMARTY7) September 30, 2018
As you can see, that sure looks like Jake Gyllenhaal as Mysterio. Far From Home is going all-in on the look of the character, complete with a long, flowing cape. Marvel sometimes takes a "realistic" approach to character costumes, removing more fantastical elements to blend them into the real world. Even Homecoming's Vulture was dressed-down a bit. But that doesn't seem to be the case here – which is interesting. Just who is this film's version of Mysterio, and why is he stalking around in that wonderful cape? For a comparison, here's Mysterio in the comics.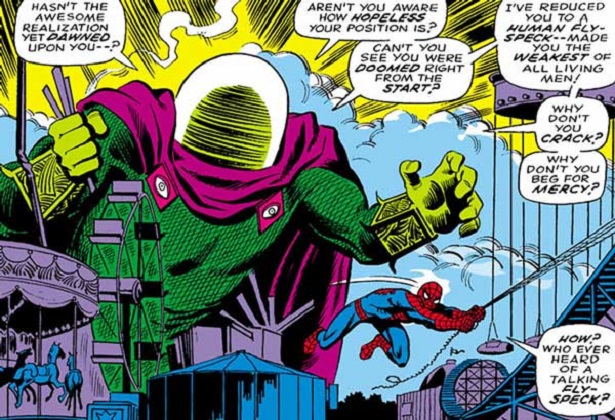 Will Far From Home commit to putting a giant crystal ball on Jake Gyllenhaal's handsome head? We'll have to wait to find out.
In the comics, Mysterio is a movie special effects artist named Quentin Beck. Per the Marvel Wiki, "Beck began his career as a movie stuntman in Hollywood, then became interested in special effects. He became one of the most accomplished special effects designers in the industry, but due to lack of recognition, he wanted to become an actor. However, he lacked the looks and talent to be a star and the patience to be a director, and saw his career in special-effects to be a dead-end job. When a friend of his jokingly suggested that the quickest way to become famous was to take out a costumed hero, Beck realized that his expertise in illusions could make him an effective super-villain. Choosing Spider-Man, then a relatively weak and inexperienced target, Beck prepared his resources for a few months before attempting to eliminate the wall-crawler."
Will Far From Home keep this origin? I have my doubts, but we shall see. In Spider-Man: Far From Home, Tom Holland's Peter Parker and his friends head to Europe for summer vacation, and trouble follows. Curiously enough, Michael Keaton's Adrian Toomes/Vulture is back as well. Zendaya, Marisa Tomei, Cobie Smulders, Jacob Batalon, Tony Revolori, and Samuel L. Jackson also star.
I thought Spider-Man: Homecoming was a lot of fun – I had my doubts over yet another new Spider-Man film franchise, but the movie's tone, plus Tom Holland's amusing performance, won me over. Hopefully, Far From Home keeps the momentum alive. Adding a talented actor like Gyllenhaal to the cast certainly doesn't hurt.
Spider-Man: Far From Home swings into theaters on July 5, 2019.