'Rocketman' Trailer: It's Going To Be A Wild Ride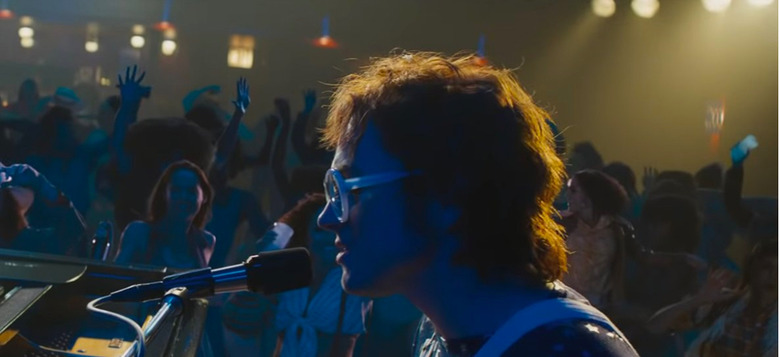 Elton John's rise to fame is the subject of Rocketman, but this is no mere biopic. Instead, it's being billed as a "musical fantasy", and this first Rocketman trailer certainly plays that up. Taron Egerton's Elton John isn't just going through his life – he's in the midst of an actual musical, with everyone around him singing and dancing. Watch the Rocketman trailer below.
Rocketman Trailer 
I'm a bit burned-out on rock-n-roll biopics (the Bohemian Rhapsody trailer makes me cringe with its going-through-the-motions approach). But I'll freely admit Rocketman has me intrigued, especially after this trailer. This doesn't look like your standard biopic at all – it's more creative than that. And really, that's all I ask at this point – show me something different. One of the best musician "biopics" of all time is Todd Haynes' weird and wonderful I'm Not There, which takes the life of Bob Dylan and spins it into something unique. Can Rocketman do something similar? Hopefully.
Rocketman hails from director Dexter Fletcher, who also had to come in and finish shooting Bohemian Rhapsody after original director Bryan Singer stopped showing up on set. But everything on display here looks superior to that other film (Rami Malek's dead-on Freddie Mercury impression aside). The only thing throwing me off here is star Taron Egerton's singing voice at the end, which is clearly not the voice of Elton John. It's not that Egerton is a bad singer, it's just that John's vocals are so distinct that having anyone else perform them is immediately distracting. Perhaps it'll work better in the film itself, though.
Here's how Egerton described Rocketman:
"We are making a movie called Rocketman about Elton John's formative years. Everyone thinks it's a bio-pic. It isn't. It's a fantasy musical so it's actually his songs used to express important beats in his life at emotional moments. He's not the only character that sings. It's going to be fun."
Director Fletcher added:
"It's not what I am trying to do, it's what I am going to do. I think Taron summed it up well. It's a musical fantasy, not a biopic...We have Elton's songs and Elton's life story, or a part of it. And it is a fantasy version of real life. It is a true fantasy. So I am looking to create something that will entertain and inform and amaze and do many, many things. It is just literally at the beginning now."
Rocketman, starring Taron Egerton, Jamie Bell, Richard Madden, Gemma Jones and Bryce Dallas Howard, opens on May 31, 2019.