'Her Smell' Review: Alex Ross Perry's Elisabeth Moss-Starring Punk Movie Smacks Of Greatness [NYFF]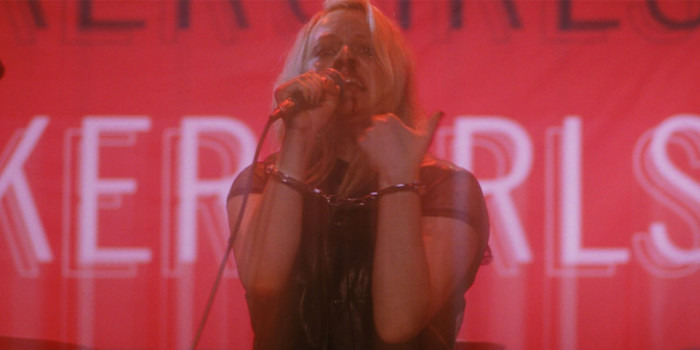 We see Elisabeth Moss' punk musician Becky Something rock out on stage before we ever hear her talk or watch her terrorize her entourage. It's a simple yet important introductory gesture from writer/director Alex Ross Perry to kick off Her Smell. The song establishes the character's performative flair prior to launching headfirst into the maelstrom she unleashes, providing crucial understanding for why her "business family" stands by her. Addicts, particularly talented ones, can draw people in with the allure of the very same narcissism that will later repel them.
Perry's film, depicting five one-location scenes playing out in apparent real-time, recalls a more theatrical structure than a filmic one – Shakespearean, even, if you're inclined to believe the film's introduction at the New York Film Festival. The first three scenes comprise something of a "pre-intermission" first act with Moss' Becky nearing total implosion under the weight of artistic frustration, substance abuse and general vanity. Cinematographer Sean Price Williams restlessly follows her as well as the coterie of bandmates, family members and other executives who manage to withstand her toxicity. It is they who manage to keep the entire group, Something She, from total combustion.
Yet nothing about this tightly wound backstage drama feels overly stagey. Perry's creation is wholly cinematic making full use of the intimacy and claustrophobia that films provide so well. Her Smell gives Damien Chazelle's First Man a serious run for its money as the fall festival film most likely to cause motion sickness with its furious camera movements and jarring editing. It's all amplified by top-notch sound design that plants a low rumble underneath Becky's reign of terror, like a brewing thunderstorm that's about to unleash all hell on everyone below.
None of the bravura filmmaking would have the same stinging impact were it not for Elisabeth Moss. Her fierce, tormented performance is not afraid to lean into her bandmate Mari's (Agyness Deyn) description of Becky – to know her is to come to hate her. It's not your average self-destructive character, in part because Moss plays Becky with such propulsive energy that she remains blithely unaware of the damage left behind on her war path. Becky does not exist on some arbitrary continuum of "likeable" and "unlikeable" because Moss blows up that spectrum altogether. She simply charges forward the only way her character knows how and lets the trail of tears and blood speak for itself.
It seems a bit beside the point to speculate about whether or not Moss played Becky with sympathy because it's not what Alex Ross Perry aims for in Her Smell – at least, not explicitly. Compassion for Becky comes as an organic byproduct of the honest in Moss' portrayal. We have to see her at rock bottom to fully feel the film's "post-intermission" second act as Becky claws her way toward redemption and recovery. The pivot from visceral to emotional works as well as it does because Moss captures the full range of experience her character endures.
In one of the film's most affecting moments, Perry pushes the camera in slowly on Becky's face as she watches a group of her acolytes perform in front of her. In the shot, Moss shows amusement, jealousy, anger, resentment – a full battery of contradictory sensations she won't let herself slow down to sort out. Only when Becky begins to take a step back from the chaos of her life, even going so far as to refer to herself in third person so she can separate person from persona, can she take proper emotional inventory of her life. From this vantage point, she can finally appreciate the enormity of sacrifices made by everyone from her bandmates to her ex (Dan Stevens) to her manager (Eric Stoltz).
To Alex Ross Perry's credit, this portion of Her Smell never reeks of cheap sentimentality, which is especially remarkable given the cynicism of his previous downbeat dramedies. It's a fully authentic conclusion to a story of a prodigious musician's precipitous fall and subdued rebirth. Great talents attract good people into their orbit, and those supporters do not simply fall out when the going gets tough. Accomplished musicians endure thanks to the resilience of their boosters.
/Film rating: 8.5 out of 10