'Sesame Street' Movie Lands 'Portlandia' Co-Creator Jonathan Krisel To Direct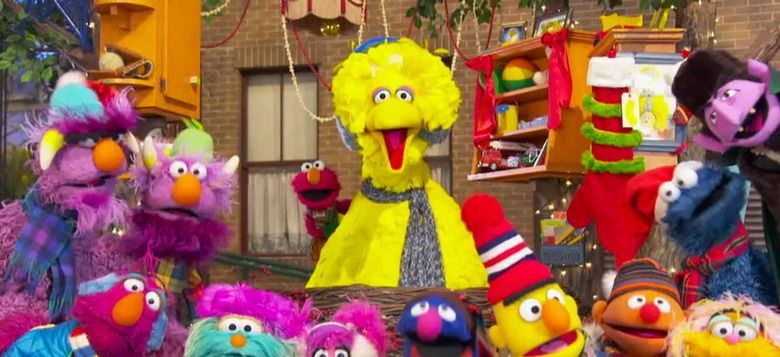 The Muppets had their big theatrical comeback in 2011, now it's Sesame Street's turn. Warner Bros. has tapped Portlandia co-creator Jonathan Krisel to direct a live-action Sesame Street movie. More on the Sesame Street movie below.Variety is reporting the news that Jonathan Krisel is the Sesame Street movie director. The movie is described as a musical, with Shawn Levy and Michael Aguilar producing a script from Mike Rosolio and Chris Galletta. Sesame Street used to be the sole property of PBS, but Sesame Workshop signed a deal with HBO – owned by Warner Bros. – in 2015.
There's no word on just what the Sesame Street movie will be about, but it will likely transfer the show's characters –  Bert & Ernie, Big Bird, Oscar the Grouch, Elmo, the ghost of Mr. Hooper, and so on – to the big screen. This won't be Sesame Street's first big screen adventure, either. The series first hit theaters with 1985's Sesame Street Presents: Follow That Bird.
Follow that Bird
In that film, "Social worker Miss Finch (Sally Kellerman) feels that Big Bird should live in an environment with only birds like himself. When she sends him to live with a family of dodos in Illinois, Big Bird cannot help but think of his friends back home. Deciding Sesame Street is the place for him, Big Bird begins an adventurous journey back to where he truly belongs."
Follow that Bird was followed with 1999's The Adventures of Elmo in Grouchland.
The Adventures of Elmo in Grouchland
In this follow-up, "Elmo's blanket gets sucked into colorful, swirling tunnel into Grouchland, the yuckiest place on earth. Elmo goes on an adventure to Grouchland to retrieve his blanket."
Recently, Sesame Street made headlines in a most-unwanted way. Sesame Workshop took raunchy puppet parody The Happytime Murders to court over the Happytime tagline: "No Sesame, All Street." Sesame Workshop claimed Happytime Murders posed a "threat of irreparable injury" to "Sesame's mark and brand," adding:
"Sesame has worked for nearly 50 years to build, cultivate and maintain trust with its audience of parents and young children built on its reputation for wholesome educational programming. That trust, although built over a span of generations, is too easily lost and is now in jeopardy. Defendants threaten to inflict serious, irreparable damage to Sesame's mark and brand by associating their adult movie with Sesame Street."
Happytime Murders ultimately won the lawsuit, but Sesame Workshop had the last laugh when the R-rated puppet movie bombed at the box office. A Sesame Street movie has been in the works since at least 2012, but Krisel's hiring suggests the project is finally moving forward.