Now Stream This: 'The Endless', 'Maniac', 'Clouds Of Sils Maria', 'Shutter Island', And More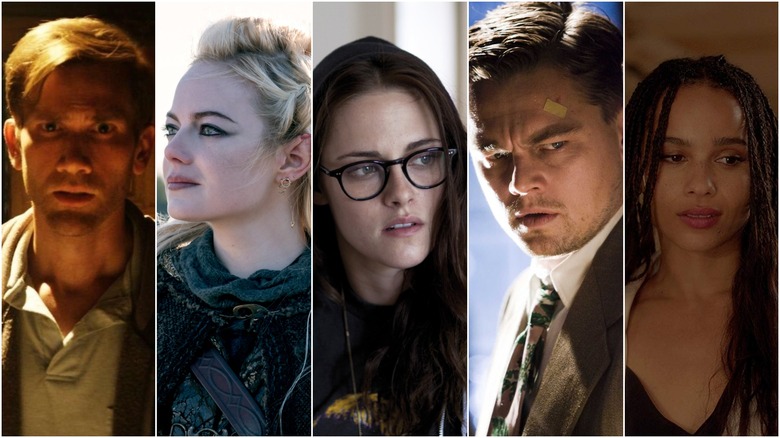 (Welcome to Now Stream This, a column dedicated to the best movies streaming on Netflix, Amazon, Hulu, and every other streaming service out there.) 
These are the best movies streaming right now. Let's get streaming.
The Best Movies Streaming Right Now
Now Streaming on Netflix
Release Date: 2018Genre: Weird metaphysical sci-fi horrorDirector: Justin Benson, Aaron MoorheadCast: Justin Benson, Aaron Moorhead, Callie Hernandez, Tate Ellington, Lew Temple, James JordanJustin Benson and Aaron Moorhead are the minds behind indie horror curiosities The Reslotuon and Spring. If you've seen those films, you might know what you're in for with The Endless, their latest oddity. This is their most polished film yet, full of special effects (that look incredible, even though they were rather cheaply created). But the classic Benson and Moorhead aesthetic shines through, as does their signature: an underbelly of genuine emotion beneath the horror. The Endless follows two brothers (played by Benson and Moorhead), who in their youth escaped a doomsday cult. Nothing has ever been right since, though, and Moorhead's character longs to reconnect with the cult. When a mysterious video tape shows up at their apartment, Benson's character relents and agrees to travel back to the cult's grounds with Moorhead. Once they get there, they find the cultists friendly and cheerful, but dark things are lurking beneath the surface. A blend of Lovecraftian horror and indie film drama, The Endless is unique and unforgettable. Also: if you haven't seen Resolution yet, I'd recommend watching that first. It's streaming on Shudder.For fans of: The Resolution, Spring, A Cure for Wellness, tug-of-war.
Now Streaming on Hulu
Release Date: 2010Genre: MysteryDirector: Martin ScorseseCast: Leonardo DiCaprio, Mark Ruffalo, Ben Kingsley, Michelle Williams, Emily Mortimer, Patricia Clarkson, Max von SydowShutter Island often gets classified as "lesser Scorsese", but I'm here to say that's just not true. This is one of Martin Scorsese's best – a gorgeous, heartbreaking horror-noir about loss, regret and madness. Working with cinematographer Robert Richardson, Scorsese creates a visual palette loaded with lush greens, deep reds and icy blues. It's an art deco nightmare; a journey into the past, as seen through the lens of a dream. Leonardo DiCaprio is a U.S. Marshall summoned to Ashecliffe, an insane asylum tucked away on a secluded island in Boston Harbor. A female patient has escaped under mysterious circumstances, and DiCaprio and his new partner, played by Mark Ruffalo, hope to track her down. But along the way, DiCaprio's past traumas come back to haunt him – particularly the ghost of his dead wife (Michelle Williams), who keeps popping-up. Spooky, melodramatic and gothic, Shutter Island is a gem.For fans of: The Ninth Configuration, Jacob's Ladder, Cat People, Patricia Clarkson cameos.
Now Streaming on FilmStruck
Release Date: 2014Genre: DramaDirector: Olivier AssayasCast: Juliette Binoche, Kristen Stewart, Chloë Grace Moretz
The film that solidified Kristen Stewart as more than "that girl from Twilight," Clouds of Sils Maria is a luminous, often biting drama from Olivier Assayas about faded fame. Juliette Binoche is an well-regarded actress asked to join a new production of the play that made her famous. But now that she's older, she's being asked to play the role of an older character in the play, rather than the role that launched her to acclaim, while Chloë Grace Moretz plays the young star in the younger part. This leads to Binoche coming to terms with her own personal reality, and not liking what she sees. Stewart plays her frustrated assistant, almost constantly on a cell phone. The two main actresses work together phenomenally, making this primarily an actor's showcase.
For fans of: Personal Shopper, The Bitter Tears of Petra von Kant, Irma Vep, trains.
Now Streaming on Netflix
Release Date: 2018Genre: Surreal sci-fi-comedy miniseriesDirector: Cary Joji FukunagaCast: Emma Stone, Jonah Hill, Justin Theroux, Sonoya Mizuno, Gabriel Byrne, and Sally Field
What a bizarre delight this series is. Maniac defies real classification, and plays out like the lovechild of Total Recall and Eternal Sunshine of the Spotless Mind. Emma Stone and Jonah Hill play two very different people who agree to partake in an experimental drug trial created by a tormented doctor (Justin Theroux). The trial involves the subjects having their minds hooked up into an elaborate computer system – a computer system that's going through a bout of depression. What follows is a series of scenarios in which Stone and Hill keep playing different people in different worlds, always drawn together in some way. On the surface, Maniac is a comedy – and it's frequently very funny. But there's a distinct sadness running through this series, and grief and regret are two of the biggest themes. Stone does some career-best work here, playing her character as broken and stand-offish yet captivating. Sonoya Mizuno steals most of the show as well, playing a chain-smoking doctor. I know this sounds like hyperbole, but I promise you: you really haven't seen anything else like Maniac.
For fans of: Eternal Sunshine of the Spotless Mind, Inception, Total Recall, Emma Stone wearing elf ears.
Now Streaming on FilmStruck
Release Date: 1994Genre: Screwball ComedyDirector: Joel and Ethan CoenCast: Tim Robbins, Jennifer Jason Leigh, Paul Newman
After taking the indie film world by storm, Joel and Ethan Coen were courted by Hollywood and offered their biggest budget yet to make The Hudsucker Proxy. The result: it was a box office bomb. But who cares (besides investors)? Box office failure aside, Hudsucker is an underrated treat from the Coens – a screwball comedy full of inventive camera work and charming antics. Tim Robbins is a dim but lovable mail clerk at the all-powerful Hudsucker Industries. After the company president kills himself, the board of directors – lead by a cigar-chomping Paul Newman – cook up a scheme to buy a controlling interest in the company by crashing the stock. To do so, he recruits Robins to be the new president. In true The Producers fashion, though, this backfires when Robbins ends up inventing something huge: the hula-hoop. This all sounds more complicated than it really is, and the plot is really secondary to the strange world the Coens are creating. Jennifer Jason Leigh steals the whole film as a fast-talking reporter investigating Robbins. And Carter Burwell's score will make your heart swell.
For fans of: Barton Fink, Raising Arizona, O Brother, Where Art Thou?, divine intervention.
Now Streaming on Amazon Prime Video
Release Date: 2005Genre: BiopicDirector: Bennett MillerCast: Philip Seymour Hoffman, Catherine Keener, Clifton Collins Jr., Bruce Greenwood, Mark Pellegrino, Amy Ryan, Chris Cooper
It's a tragedy that we lost Philip Seymour Hoffman so young. One of the finest actors of his, or any, generation, Hoffman had a way to make any role his own. One of his best performances is in Capote, where he doesn't just play author Truman Capote, he full-own possesses him. From the voice to the mannerisms, Hoffman is Capote, and it's almost haunting to watch. This isn't your traditional biopic. Instead, it focuses on Capote's time spent writing In Cold Blood. Capote becomes obsessed not just with the case, but also with the killers, and forms an emotional attachment with one of them. But does Capote really care, or is he just creating great material for his book? This is a complex, troubling film, and I don't know if it would work as well without Hoffman. Thankfully, it has Hoffman, and the actor conjures up magic.
For fans of: In Cold Blood, Murder by Death, Foxcatcher, unbeatable acting.
Now Streaming on Hulu
Release Date: 2017Genre: Post-Modern NoirDirector: Aaron KatzCast: Lola Kirke, Zoë Kravitz, Greta Lee, Michelle Forbes, Nelson Franklin, Reeve Carney, Jessica Parker Kennedy, James Ransone, Ricki Lake, and John Cho
This neon-noir takes its time, building in a sense of ease before succumbing to darkness. Lola Kirke plays an assistant to a movie star (Zoë Kravitz), and she spends most of her days putting out fires and not getting enough sleep. But when she becomes the prime suspect in a murder, Kirke attempts to solve the crime herself. Doing so won't be easy, and it might dredge up a few things from her past as well. Gemini doesn't seem like your standard mystery at first, but the more it unfolds, the more it embraces pulpy tropes, especially as Kirke starts sleuthing around trying to clear her name. Stylish and believable, Gemini is one of last year's more underrated films.
For fans of: Only God Forgives, Body Double, Always Shine,
8. Channel Zero: No End House
Now Streaming on Shudder
Release Date: 2017Genre: TV horrorDirector: Steven PietCast: Amy Forsyth, Aisha Dee, Jeff Ward, Seamus Patterson, Sebastian Pigott, Jess Salgueiro, John Caroll Lynch
The second season of Channel Zero hits Shudder this week, and you don't want to miss. No End House offers up more creepypasta-inspired chills, and adds a surprisingly emotional subtext as well. Amy Forsyth plays a young woman still grieving the untimely death of her father (John Carroll Lynch). In the past few months, she's grown distant from her best friend (Aisha Dee), but the two finally reconnect and head out to a bar with another friend. There they learn of the existence of the No End House, which sounds like your typical haunted attraction, but is so much more. Once the Forstyh and company enter the house, things will never be the same. Director Steven Piet brings a surrealist eye to the proceedings, keeping No End House constantly off-kilter, to the point where the characters (and the audience) can't keep track of what's real, and what's some sort of nightmare. In the midst of all this horror is the story about Forsyth coming to terms with her grief, which works surprisingly well – maybe even more than the horror.
For fans of: Book of Shadows: Blair Witch 2, Raw, Carnival of Souls, late-night snacks.
Now Streaming on Amazon Prime Video
Release Date: 2003Genre: ¯\_(?)_/¯Director: Larry CharlesCast: Bob Dylan, John Goodman, Jeff Bridges, Penélope Cruz, Val Kilmer, Mickey Rourke, Jessica Lange, Luke Wilson, Angela Bassett, Bruce Dern, Cheech Marin, Ed Harris, Chris Penn, Steven Bauer, Giovanni Ribisi, Michael Paul Chan, Christian Slater and Fred Ward
A cavalcade of character actors came out of the woodwork to take strange, even brief, roles in Masked and Anonymous, and who can blame them? The film starred Bob Dylan, in his first real lead acting role in a long time Dylan plays Jack Fate, a legendary musician who gets bailed out of prison to play a big benefit concert being held in some sort of post-apocalyptic hellscape. Along the way he encounters all sorts of oddballs, and eventually plays some tunes. Dylan doesn't so much act in the film as he does stand around with an enigmatic look on his face. The end result is a singularly strange film – a weirdo road show with nowhere to go. It shouldn't work, and yet, there's something so captivating about watching Dylan decked out in his cowboy gear, traveling from one well-known actor to the next. By the end of the film you might not know just what the hell you watched, but you won't be sad you watched it.
For fans of: I'm Not There, Pat Garrett & Billy the Kid, The Big Lebowski, Bob Dylan wandering around.
Now Streaming on Shudder
Release Date: 2014Genre: HorrorDirector: Kevin Kölsch and Dennis WidmyerCast: Alexandra Essoe, Amanda Fuller, Noah Segan
What would you do to make your biggest dream come true? What price would you pay; what choice would you make? Alexandra Essoe turns in an attention-grabbing performance as a struggling actor desperate for fame and fortune. Her ticket to success comes in the form of an audition for a film called The Silver Scream, but landing the role is going to cost her – and then some. Asked to perform increasingly unpleasant tasks to land the role, Essoe relents and gives in, which only leads to strange behavior and deadly consequences. To say more would ruin the surprise, but just know that Starry Eyes is effective and disturbing, full of ominous dread perfectly created by filmmakers Kevin Kölsch and Dennis Widmyer (who will next helm the Pet Sematary remake).
For fans of: The Neon Demon, Hereditary, Mulholland Drive, body horror.